Camp-California.com features campground and RV resorts with onsite activities and entertainment
by Jeff Crider —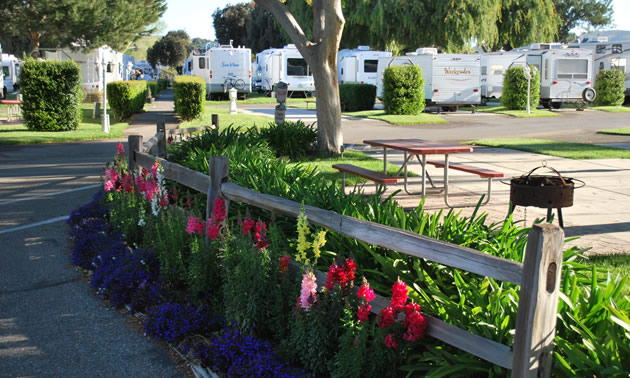 California's campgrounds and RV resorts are gearing up for the spring and summer camping seasons with a wide range of activities, particularly at privately owned parks.
"Camping increasingly involves organized activities, particularly at privately owned and operated campgrounds," said Debbie Sipe, executive director and CEO of the California Association of RV Parks and Campgrounds, which hosts Camp-California.com.
"Camp-California.com can help you identify the best campgrounds, RV parks and resorts in the areas you want to visit, and once you click on the websites of the parks that interest you, you can find out what they offer in terms of onsite activities and entertainment and see if it's the right fit for you, your friends and your family," Sipe said.
Many campgrounds also offer a wide variety of rental accommodations, so you don't even need to have an RV or tent to camp. More than half of California's privately owned campgrounds and RV resorts have rental accommodations, usually furnished park model RVs, while a handful of resorts also have unique accommodations, such as tipis, covered wagons, yurts and vintage RVs.
Here's a sampling of some of the activities taking place this summer at campgrounds throughout California:
Campland on the Bay in San Diego: This family friendly campground has a private beach on the shores of Mission Bay with special areas for swimming that are ideal for children. The park also has swimming pools and a Jacuzzi as well as a skate park, a fitness center and an onsite restaurant. Activities include scavenger hunts, beach volleyball, kickball, capture the flag, soccer, horseshoes and adult darts. Hydra bikes, Hobie Cats, jet skis, peddle boats and kayaks are also available for rent. Special events include live entertainment and dances, including periodic "Glow in the Dark DJ Dances" as well as talent competitions involving Campland guests.
Casini Ranch Family Campground in Duncans Mills: This campground, located 60 miles north of San Francisco, has frontage along the Russian River. The park has hayrides, weekend beach bonfires with marshmallow roasting as well as outdoor movies on holiday weekends. Canoe and kayak rentals are also available. Many guests also enjoy feeding the ducks and other waterfowl on historic Moscow Mill Pond. The campground, which has 225 RV and tent sites as well as four cabins, is adjacent to Willow Creek State Park and nearby Armstrong Redwoods State Reserve, both of which offer hiking trails.
Coloma Resort in Coloma: This campground is located along the South Fork of the American River just a few hundred yards from the site where James Marshall discovered gold in 1848, sparking the California Gold Rush. Camping is available every day from Memorial Day through Labor Day weekend and includes RV and tent sites as well as a variety of different types of cabins. Other rental units include a bunkhouse and a two-bedroom cottage with queen size beds, a sleeper sofa in the living room, two private bathrooms, a full kitchen, fireplace, heating and air conditioning and a private back yard. Camping is only available to the public on weekends after Labor Day as the campground is used for gold rush, science and nature education programs for elementary school students during the school year.
El Capitan Canyon and Ocean Mesa Campground, west of Santa Barbara: Ocean Mesa Campground has views of the Pacific Ocean from high up on a hill, about 20 miles north of Santa Barbara. Ocean Mesa is right next door its luxurious sister property, El Capitan Canyon, which is hidden in a canyon filled with sycamore, oak and pine trees. El Capitan Canyon is a popular location for weddings and romantic getaways. Wedding parties and their families typically arrive on Friday and stay through Sunday. While RVers stay at Ocean Mesa, those seeking luxurious park model RV rental accommodations can rent them at El Capitan Canyon. Guests of both parks can enjoy El Capitan Canyon's high end amenities, including herbal scalp and hot stone massages. Nearby activities include hiking, ocean kayaking, biking and hang gliding. The resort's summer activities include an outdoor concert series with everything from classic rock to Latin jazz.
Flying Flags RV Resort in Buellton: Located next to the Danish-themed town of Solvang, this resort offers RV sites with attractive utility pedestals and street lights as well as shiny Airstream trailer rentals with fully restored interiors and shaded outdoor seating areas with food preparation facilities, including high-end barbecues, sinks and granite countertops. The resort also offers many fully furnished rental cottages with surfing, brewhaus and wine country themes as well as an African-themed safari tent village with high end furnishings, including upscale wooden furniture and fine lighting with an oil rubbed bronze finish. The tents are set up on wooden platforms and come with outdoor cooking areas with high quality propane powered steel barbecues with adjoining flat top grills, sinks and granite countertops. The resort also has a swimming pool with "dive in" movie nights, a wine and beer bar and a gourmet sausage truck in an Airstream trailer.
Frandy Park in Kernville: This park is located on the banks of the wild and scenic Kern River and offers sites for tents and RVs as well as covered wagon rentals with sleeping accommodations. Three river rafting companies are located onsite and there are opportunities for golfing, horseback riding, hiking, biking and ATV riding nearby. Fishing opportunities also abound for golden, rainbow and brown trout as well as crappie. Nightly dancing and weekend live bands are available at local dinner houses. The park also accommodates visitors who want to attend Kern River Rock 'n Blues, a two-day event at the end of September.
Fridays RV Retreat and McCloud Fly Fishing Ranch in McCloud: This park features RV and tent sites and is unique in that it has onsite fly fishing ponds as well as a runway for model airplanes.
Hope Valley Resort & Campground in Hope Valley: This 7,000-foot elevation campground is located in the Sierra Nevada near the banks of the West Fork of the Carson River. The campground includes drive-in and walk-in campsites as well as a classic 1947 Spartan trailer rental and the Hope Valley House, a three bedroom, two bathroom vacation home rental that overlooks the river. The campground is a sister property of Sorensen's Resort, just over a mile away, which offers luxurious cabin rentals with fireplaces as well as a gourmet cafe. Guests at Sorensen's Resort receive complimentary hot cocoa, tea and coffee throughout the day. Cafe specialties include homemade quiche, classic beef Burgundy stew, seasonal fish, New York steak, garden fresh salads and house made desserts. Sorensen's Resort offers a unique seminar and workshop program, including a May 18 birding adventure, a June 3 plein-air workshop, a June 15 workshop on the Japanese practice of Shinrin Yoku or "forest bathing," which is said to provide cardiovascular and immune system benefits, a medicinal plant workshop on July 6, and "paint and sip" workshops which combine wine tasting with painting instruction on July 18 and Sept. 26. Visit http://www.hopevalleyresort.com and http://www.sorensensresort.com/
Kamp Klamath on the Klamath River: This Bigfoot Country campground features RV and tent sites and can serve as a base camp for visiting scenic attractions nearby, including Fern Canyon in Prairie Creek Redwoods State Park, where the first Jurassic Park was filmed. Jedediah Smith State Park and Redwood National Park are also close by. Saturday night all-you-can-eat chicken or salmon BBQ buffet through Labor Day with organic stir fry vegetables and salad from the campground's garden.
Jellystone Park at Tower Park Marina in Lodi: This campground, which is located in the Sacramento-San Joaquin Delta, offers organized family activities and theme weeks and weekends with Yogi Bear, Boo Boo and Cindy Bear, including a "Chocolate Frenzy Week" June 17-23 with a variety of chocolate eating, drinking and painting activities as well as a chocolate slide; a "Christmas in July Week" July 22-28 with Christmas carol contests, a campsite decorating contest, messy ice skating, and a cookies and milk party with Santa; and a "Puppies and Pets Palooza Weekend" Sept. 20-22 with a pet collar decorating activity and a dog show. New amenities to be offered beginning Memorial Day weekend include 10 bumper boats with spray features that guests can enjoy in the Delta. Other campground amenities include miniature golf, gem mining, lazer tag, Gaga ball, a jumping pillow, sand volleyball and watercraft rentals. This park offers RV and tent sites as well as rental cabins.
Lake Minden RV Resort in Nicolaus: This park's upcoming activities include a fishing derby on the Saturday of Father's Day weekend with a prize for the heaviest catfish. There will also be an ice cream social in honor of dads. Campers can also participate in a wedding vow renewal ceremony and reception and barn dance, scheduled for June 21-23. A shark-themed weekend is set for Aug. 2- 4 with shark movies, shark games and crafts and shark sundaes. A pet themed weekend is set for Sept. 13-15 with a pet fashion show, a pet talent show, pet arts and crafts and a pet scavenger hunt.
Newport Dunes Waterfront Resort & Marina in Newport Beach: This RV resort is located along a protected bay in the harbor at Newport Beach. They have RV sites that are next to the beach as well as luxurious park model RV rentals. Amenities include a floating obstacle course, called a WiBit, as well as sailboat, pedal boat, kayak and electric boat rentals. The resort also offers a bistro, movies on the beach and an extensive spring and summer concert series that includes jazz, reggae, rock and roll and a variety of tribute bands.
Oakzanita Springs RV Campground in Descanso: This campground features RV and tent sites as well as rental cabins. Special activities are planned every weekend. On Father's Day weekend, children will be able to make dad a card and craft and challenge dad to football toss, squirt gun and root beer drinking contests. A beer and cheese social will also be held in honor of dads. Other summer activities include a Hawaiian weekend July 20-21 with lei making, limbo contests and a talent show for kids.
Pacific Dunes RV Resort and Riding Stables in Pismo Beach: This 215-site RV park is next door to Pacific Dunes Ranch Riding Stables, which offers horseback riding trips on one of the only beaches in California where people can go horseback riding. Guides take riders through a lushly forested area that includes a creek that's inhabited by beavers and frequented by deer. Riders then go along the beach for a short time before circling back on another trail that crosses the Oceano Dunes, an 18-mile-long stretch of sand dunes that were once inhabited by the Chumash Indians.
Pismo Coast Village RV Resort in Pismo Beach: Onsite amenities at this 400-site RV resort include swimming pools, a miniature golf course, pickleball court and unique bicycle rentals, including surreys for the whole family.
Rancho Oso RV & Camping Resort in Santa Barbara: This park also offers guided horseback riding trips. Guests at this park can watch stock dogs herding sheep and cattle every Saturday. The park also offers a bucking bull demo with "baby" bulls that are being prepared for future work in rodeos. Amenities include bike trails, miniature golf, nature hiking trails, plus an onsite restaurant and clubhouse. Camping options range from RV and tent site rentals as well as park model cabins. The resort also offers horse camping sites for campers who bring their horses with them. The resort also has several covered wagon rentals, which are arranged in a circle around a campfire pit. Covered wagons sleep up to four people and are equipped with four cots and an electrical outlet.
Redwood River Resort & Campground in Leggett: This park, which has RV and tent sites as well as cabin and motel room rentals, features movie nights, rock painting, ice cream socials, Karaoke nights and "Find the Rock" games in which children search for brightly colored rocks in exchange for a prize. One of the park's biggest onsite events takes place over July 4th with a chocolate pie eating contest and canoe races in the swimming pool, a tug of war and water balloon toss. Reggae Rising, an internationally acclaimed three-day Reggae music festival, takes place six miles north of the resort during the first weekend of August.
San Diego Metro KOA in Chula Vista: This campground features a variety of organized activities from tie-dye t-shirt making classes to ice cream socials, pony races, hayrides, flashlight lollipop hunts and outdoor movies. The campground also has a rock climbing wall, an outdoor laser game facility called a Surf Shack Shootout and an onsite restaurant called the Sand Castle Cafe. Rental accommodations range from an African safari style tent that's furnished to rustic cabins to fully furnished park models, two more of which were expected to be available for rent this summer. Special activities include wine and craft beer tastings, crafts and tie dye t-shirts.
San Francisco Petaluma KOA in Petaluma: This campground, which features park model cabin and RV rentals as well as RV sites, features a petting farm with goats, chickens, miniature donkeys and horses; a 30-foot rock climbing wall; horse-shoe pits; a bocce ball and ring toss area; a jumping pillow as well as a huge swimming pool. Organized activities include a Magic Week July 5 - 8 with magic themed activities and a magic show; a Karaoke week Aug. 13-19 with talent competitions; and Halloween themed weekends, which are scheduled for every weekend in October. Other activities include hay wagon rides, pancake breakfasts and outdoor movie nights.
Santee Lakes Recreation Preserve in Santee: Operated by Padre Dam Municipal Water District, the Preserve has over 190 acres of stocked lakes and parkland as well as a 300-site campground with RV and tent sites as well as 10 fully furnished park model cabins with kitchens and bathroom facilities. Seven of the cabins are right on the water's edge, while three of cabins are actually floating on the water. The cabins come equipped with air conditioning and heating as well as wireless Internet service and barbecues. Other campground amenities include swimming pools and a Jacuzzi, a water sprayground and regular playground facilities as well as a camp store that offers food and fishing tackle as well as canoe, rowboat and kayak rentals. Bicycle rentals are also available. Special events also take place at Santee Lakes from time to time, including night fishing events with lanterns and summer concerts.
Smithwoods RV Park in Felton: This RV park's summer activities include outdoor movie nights, ice cream socials and scavenger hunts. Other special events this summer include a July 4th children's wheels parade in which campers are invited to decorate their bikes, trikes, scooters and wagons in red, white and blue. The park will have a vintage trailer rally on the first Saturday of August.
Ventura Ranch KOA in Santa Paula, California: This campground offers a wide range of rental accommodations, including fully furnished safari tents, tipis and park model cottages. The campground also has host of other amenities to keep its campers entertained, including a jumping pillow, a rock climbing wall, gem mining and cornhole play area. Bigfoot Adventure Walks also talk place once during the week and sometimes multiple times Saturday nights during the summer months. The campground also offers tie dye t-shirt making and rocket making activities, in which children and their parents can try their skills at assembling and launching a small rocket. Free movie nights under the stars take place from May 25 to Oct. 1.
All of the campgrounds featured in this release are affiliated with the California Association of RV Parks and Campgrounds, the Auburn-based trade association that represents California's campground industry. In addition to hosting a travel planning website at Camp-California.com, the association publishes a free award-winning camping guide, Camp-California! The Camper's Guide to California and Nevada, which can be ordered through Camp-California.com. A digital version of the guide is also available on the website.