Top options to consider when purchasing your RV
Here's a list of the most popular RV options and reasons why they will make your time RVing more enjoyable.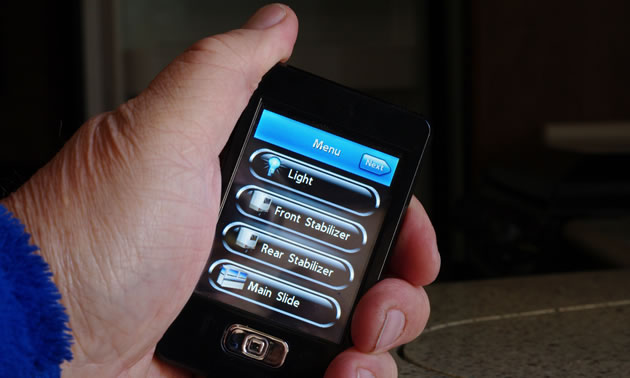 Call me a gear-hound if you like, truth is, I like stuff that works. And when that stuff enhances my outdoor experience or makes things simpler, all the better. There are many options to consider when you purchase an RV. The right choices will get you more of what you want, increase the RV's value and make your time outdoors more enjoyable.
Here are some of the top options and why I chose them:
Vent covers: Covering your vents keeps the rain out, even when it pours and the vents remain wide open. I had the covers added to every vent before we took delivery of the RV.
Air conditioning: I remember the first time we bought a car with air conditioning. We thought, "Who needs air in Western Canada?" But since then we've never had a car without it. Because we usually camp with no services, we rarely use air conditioning. But when you need it, you need it badly––like when you are in your RV preparing for a family wedding at 34 C (93 F)––you will be glad you have air conditioning. And you will need it when you're camping down south too.
Heated freshwater tanks and enclosed wastewater tanks: I like to get the maximum camp days from the season, so heated tanks give me access to an extra month on either end of the season by taking away the fear of freeze-up if a few degrees of frost happen.
Travel hitch mounted on your trailer: I had a standard Class 3 hitch installed on the rear of my trailer before I took delivery. My bike rack fits the trailer hitch. You could use this for a motorcycle carrier, gear box or platform for your generator. Of course, if you pull a boat or a quad behind your fifth-wheel, you will need one of these also.
Tow hitch: A tow hitch is not really an option—you need one—but choose a hitch for your rig that suits your tow vehicle and driving needs and trick it out with top-of-the-line accessories. This might mean paying a bit more for easy-to-install load levelers for your tow-behind and quality fasteners, chains, clips and pins. This is not the place to skimp; get the best available. If that baby lets go, you've got a problem. Carry spare pins, connectors and clips in your toolkit.
Wall-mounted barbecue: A barbecue grill that mounts to your trailer exterior wall sounds convenient. I considered one, but spent the money on a Camp Chef Denali, adding the optional barbecue box. It is a spectacular stove even if it is a bit of a pig to haul. On the other hand, I can use it anywhere I choose to set it up, like when I made apple jelly in the backyard this autumn.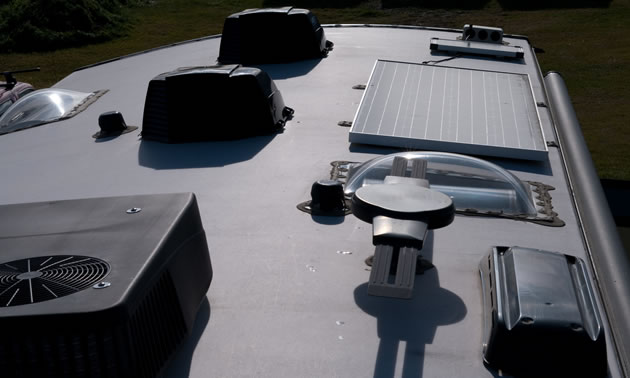 Propane adapter and hoses: Purchase a propane adapter valve and hose and say goodbye to disposable propane canisters on your RV travels. I bought these when we purchased our travel trailer.
Awning: Every time I push the remote-control switch for my awning, I feel like I stole something. Awnings provide lovely afternoon shade, help keep your trailer cool by providing relief from the direct sun and serve as an excellent viewpoint from which to watch the rain pour down. While I love this new power awning, I miss the ability to lower the awning to a steep angle manually to protect it from the wind.
Power jacks and stabilizers: The good news is my jeans last longer now that we have power stabilizers and a tongue jack. It is hard to know for sure how much money I've saved on jeans, but I sure enjoy this easy set-up.
Lights: Exterior lights on the both sides of the trailer and on the hitch tongue, inside in the storage cubicles—take all the lighting options you can get. Now the lights are LEDs and sparkling bright, and they consume less battery power. Whether I am rooting in the storage cubby for the fire poker or attaching the tongue lock after dark, plenty of exterior lights make all these jobs easier and the lights are hands-free.
Solar panel: My new roof-mounted solar panel keeps my batteries topped up the whole season of camping with no services required.
12-volt television and stereo: We never used the TV in the old trailer, half on principle and half because we did not have 110 power. We used the television shelf for books. Our new trailer has two 12-volt flat screens, a disc-player and input for my old-school iPod. I must admit to recently enjoying freshly popped corn and a movie from my leather recliner on a frosty night. And my grandkids love it.
12-volt charging socket: I never really paid attention to the 12-volt sockets by the bed, one on either side. Now we charge our phones overnight.
Counter space, island and fold-down counter: We traded counter space for recliners and passed on the island. It was a fair trade and now we have a fold-up counter extension, perfect for a dish-dry rack.
Chairs and furniture: We chose a pullout couch that makes into a queen bed, and recliners. It seems sort of silly because we spend so little time in the trailer unless it is pouring rain or snowing but I admit these chairs are very comfortable.
Configuration of dining area: Even though we usually eat at the picnic table outside, the table and seating area were big considerations for us. We chose benches. This allows us more flexibility for little ones at the table. And it gives me plenty of space to write no matter what the weather.
Oven and range: We rarely use our oven during the summer season. But come autumn when the evenings drop to 0 C (32 F) and sometimes below, the oven gets regular use. We love the casseroles, baked potatoes and fruit crumble that bubbles right out of the oven.
I feel like we have exactly what we want in an RV. The dealer helped us configure the options by helping us clarify exactly what we needed. We had our last trailer for 15 years. I can see this one lasting us at least that long because it has even more of the features that we wanted.
Take the time to think through what equipment will enhance your RV experience, and go for it. Every time you use the options, you will congratulate yourself for making the right choices and getting the most from your RV.