Heading out on fall adventures? Stay carbon monoxide safe
by Technical Safety BC —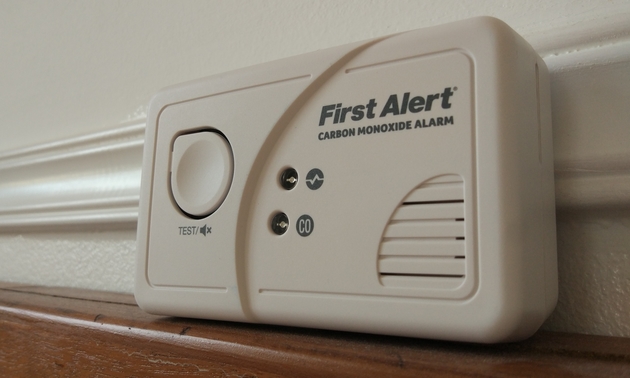 If you are heading out on any RV adventures this fall, take note of these safety tips.
Keep fuel-burning appliances outside
Fuel-burning appliances such as portable heaters, portable stoves, barbecues or kerosene lamps should be used outside. Never use them in enclosed areas such as in your RV or tent, or enclosed areas on your boat. When portable fuel-burning appliances are used outdoors they are fine, but in an enclosed space carbon monoxide (CO) can become trapped, creating a hazardous and potentially lethal environment. Also, be sure to read and understand the manufacturer's certified instructions regarding the safe operation and maintenance of your appliances.
Pack a carbon monoxide detector
Make sure that the CO alarms in your recreational vehicle, trailer, cottage or cabin are in good working condition and that you have a spare set of batteries (if the alarm is not hard-wired in). If you are camping in a tent, bring along a portable battery-operated carbon monoxide detector. Ones designed for the outdoors are rugged and durable, often waterproof, and will alert you to CO with sounds, lights and vibration.
Use propane safely
If you are bringing propane along on your travels, take the appropriate precautions. Keep transport cylinders upright (never on their side) and ensure they are secured so they can't fall over. Keep your windows open when travelling with propane. Also, never attempt to refill a disposable propane cylinder. When they are empty, take your cylinders to the recycling depot. Never put them into the garbage as they can explode if compacted in garbage collection trucks.
Know the signs of CO poisoning
Carbon monoxide is a colourless, odourless, tasteless gas that is produced by the incomplete combustion of carbon fuels such as propane, natural gas, wood, charcoal, alcohol, kerosene or gasoline. Inhalation of CO interferes with the body's ability to absorb oxygen, which can result in serious illness or even death. Symptoms of CO poisoning can include: light-headedness, headaches, nausea, fatigue, chest pains, vomiting, convulsions, confusion and dizziness. If you suspect you have been exposed to CO, leave the area immediately and seek medical attention. Be aware that pets can exhibit the signs of carbon monoxide poisoning before humans, so be alert for signs of weakness and unusual lethargy; bright red gums are another sign of potential exposure.
This article was supplied by Technical Safety BC (formerly known as BC Safety Authority). Technical Safety BC is an independent, self-funded organization mandated to oversee the safe installation and operation of technical systems and equipment in British Columbia. In addition to issuing permits, licences and certificates, Technical Safety BC works with industry to reduce safety risks through assessment, education and outreach, enforcement and research. For more information, visit http://www.technicalsafetybc.ca.