Sweet summer home
Fairmont Hot Springs Resort is a favourite summer holiday destination for the Popplestones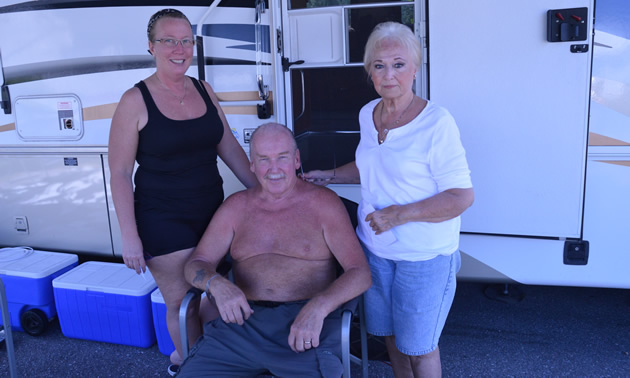 Jacqueline and John Popplestone live in Chestermere, Alberta, and have spent quite a number of summer holidays at Fairmont Hot Springs Resort RV Park in southeastern B.C. I stopped by their campsite at the end of July and asked Jacqueline a couple of questions about why they like it here.
What keeps you coming back to Fairmont Hot Springs?
We all love it. Our 15-year-old daughter, Shyana, said, "Home, sweet home!" when we arrived here this year.
How long will you be staying this time?
We're here for six weeks. My parents (Norm and Gerry Wickdahl, pictured here) came from Qualicum Beach, B.C., to join us. They are seasoned RVers, but it's their first time at Fairmont (Hot Springs). They are enjoying the pools and the beauty of the area, and they appreciate the wonderful resort staff. My husband and sons golf at every opportunity, and our middle son and his girlfriend like to take in the art and capture the area's natural beauty with a camera lens.