Yes, you can learn to sail on the prairies
Landlocked sailors love Lake Wabamun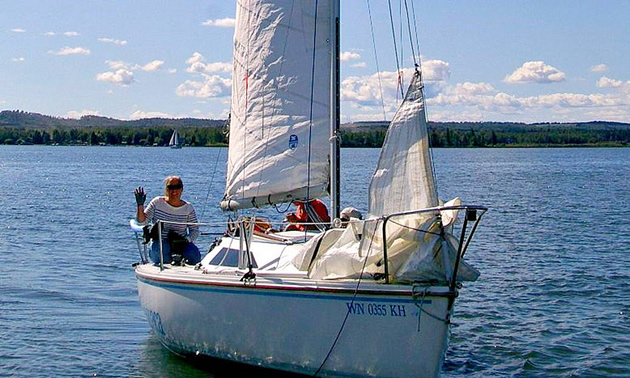 Dena Gallant had a long history of power boating behind her when she decided to try something new by taking sailing lessons. She hoped it would give her a chance to learn the rules and regulations of boating, and also give her the confidence to be able to one day skipper her own boat.
Gallant started her sailing adventure with a short weekend course offered by the Northern Alberta Sailing College (NASC) through the Edmonton Yacht Club (EYC), located just an hour West of Edmonton on Highway 16 at Lake Wabamun. Gallant said the course was a great introduction to sailing without the expense of having to travel all the way out to the coast.
"It was a lot of fun, just getting used to the boat, getting used to the wind and the waves and setting your sails," said Gallant. "It was hoot!"
Weekend courses
Camping provided by the yacht club made taking the weekend courses that much easier, giving her a nearby place to collapse, exhausted, at the end of a long day out on the water. Rates are as low as $25 a night for tents and $35 a night for RVs, complete with power. The club even has a stay for 7, pay for 5-night package, perfect for those who want to take one of the week-long sailing courses offered during the summer.
Gallant had so much fun that she soon signed up for another course and then another, eventually becoming a member of the yacht club itself, thanks in part to the welcoming atmosphere extended to her.
"The EYC members are very kind and helpful to anyone new to sailing," said Gallant. "They assisted me with all of the sailing questions I had and welcomed me into the sport with open arms."
While she started, as most beginners do, on a small two-person dinghy, Gallant soon fell in love with the experience of sailing larger-sized cruisers that on Wabamun can range anywhere from 21 to 30 feet. With amenities comparable to any RV, cruisers such as these, said Gallant, are perfect for racing, socializing with friends or just spending a fun solitary day out on the water.
"I did my White Sail levels I, II and III on weekend courses during the summer of 2010," said Gallant. "And during the winter I decided I would study all the books for the cruisers before doing a practical out at the coast in the spring."
A growing preoccupation
Today she is in the process of buying her own cruiser, but happily sails her own small dinghy. She also volunteers to act as crew member on a cruiser for any who need her help when it comes to racing, yet another pastime that Gallant has become enamoured with.
"When I'm on the water and I'm sailing, it's just a very peaceful feeling," said Gallant. "That's where I get my relaxation and the enjoyment of being outdoors and all the excitement that comes with helming a boat. The camaraderie of the sailors is awesome, and the chance to learn new skills is really a lifetime of learning with sailing."
A lot of people have the dream of learning to sail, but don't know how to get started, Gallant said. Nor do they think it's something they can start if they live on the prairies.
"With all the sailing lessons available here at Wabamun, there really is nothing that stands in your way, if it's something you're really keen on trying," she said.
A way of life
In addition to the Edmonton Yacht Club, there is the Wabamun Yacht Club located closer to Wabamun Provincial Park, which also offers sailing lessons through the Alberta Sailing Association. For those looking to learn how to operate the larger cruisers that Gallant now favours, her fellow EYC member Paul Kantor offers an opportunity through his Sindbad School of Sailing.
"Sailing is not just a sport, it's a way of life," said Gallant. "Once you get the sailing bug, whether you're at the helm of a small dinghy or testing your racing skills on a larger cruiser, you'll never want to stop."