RVDA RV Shows in Calgary and Edmonton: 5 Reasons to Attend
Campers get excited for spring and summer at the annual RVDA of Alberta RV Shows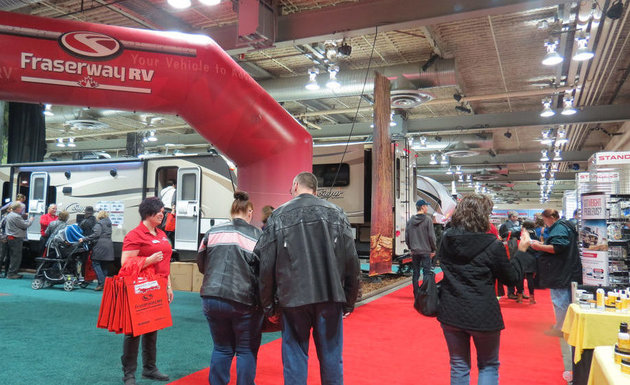 The RVDA of Alberta has hosted their annual RV Expo and Sale for Albertan campers to enjoy for years now. Each year they bring in new products, new retailers, and new people who love to camp. Held in both Calgary and Edmonton, the RVDA RV Shows are accessible, informative, and entertaining.
"I am most excited about the products and the variations in floor plans," said Dan Merkowsky, Executive Vice President of the RVDA of Alberta. "I think we will see more different products than ever for people to have a look at." Last years' shows brought 24 000 people together in Calgary, and 25 000 in Edmonton. Here's why you should be one of the attendees in 2017.
1. Support local RV dealerships and retailers
About 95 percent of the RVDA RV shows in Calgary and Edmonton are Alberta local retailers. The other few come from neighbouring provinces. "There's a lot of local people," Merkowsky said. Exhibition booths range across the board within the RV industry.
Even if you aren't looking for a new RV, lots of local dealers offer fun accessories to enhance your existing setup. If you are looking for a new RV, the RVDA RV shows in Calgary and Edmonton are the perfect place for a one-stop shop—and probably some great deals.
2. Plenty of prizes are waiting to be won
What's a camping event without prizes to get you excited for the upcoming season? "We also have some nice giveaways," Merkowsky said. The exact prizes are not nailed down yet. However, a weeklong stay in a provincial park, hockey tickets, and a couple thousand in Safeway gift cards were a few winners from previous years.
3. Everything you could ever dream of for your RV in one place
Alberta winters can be harsh. Despite the snowy fun to be had in our rocky mountains, we all still look forward to the spring and summer. The RVDA RV shows in Calgary and Edmonton act as your beacon of hope in the coldest and darkest point of the winter season.
"One goal of the show is to get out of the cold," said Merkowsky.
Rather than driving around to different retailers in the area—some of which may only be open seasonally—the RVDA brings all of the best local retailers to one location for easy access. "Instead of driving all over town to check things out, they can do it all under one roof."
Gather the family to check out the vendors together for the perfect weekend afternoon.
4. Learn about new items within the industry
"A lot of people come just because they want to see what's new," said Merkowsky. "There's always something new in the small booth displays."
The small booth displays are where attendees will find accessories, information, and new places to camp throughout the upcoming season. These small booth exhibits are often packed with new accessories to add to your collection of outdoor toys.
"We understand the economic situation," said Merkowsky.
Merkowsky explained that the upcoming shows are designed to match people with their ideal, affordable units.
"Some of the products on display will be able to be pulled by the family SUV people own right now."
We know it is fun to pick out a new rig for your family: RV and truck to match. This year, however, new products in the industry cater to all sorts of budgets.
Already own an RV? No problem! This year, the RVDA RV shows have brought in even more accessory retailers than ever before.
"There will be over 100 small booth exhibitors at each show," said Merkowsky. "There will be destination places to park your RV, there will be information about provincial parks and activities, as well as information about market products for your RV."
5. The RVDA RV shows are fun for the whole family.
"There's lots for kids to do at the event," Merkowsky said. "We have face painters, we have balloon makers, and we have clowns."
Kids' draws and games, and even the odd bouncy castle will keep your kids entertained while you check out what's new in the RV world.
Presale tickets are available starting in December at Safeway grocery stores in Calgary and Edmonton. Get excited for spring with the RVDA of Alberta.
Calgary RV Show: BMO Centre Stampede Park
When: Thursday, January 26 to Sunday, January 29
Admission
Adult: $15
Senior: $11
Youth: $7 (children 12 and under free)
Family: $35 (2 adults, 2 youth)
This show offers 280,000 square feet of local retailers and dealers, including:
Affordable RV
Arrkan Trailer & RV Centre
Bucars RV Centre
Carstairs RV Centre
Guarantee RV Centre
Field of RV Dreams
Fraserway RV LP
Racetrack RV
Western RV Country Ltd.
Trailertown
High River Autoplex & RV
Rangeland RV & Trailer Sales
Woody's RV World
Edmonton RV Show: EXPO Centre Northlands
When: Thursday, February 9 to Sunday, February 12
Admission
Adult: $15
Senior: $11
Youth: $7 (children 12 and under free)
Family: $35 (2 adults, 2 youth)
500,000 square feet of local retailers and dealers, including:
Allan Dale Trailers & RVs
All Star RV
Arrkan Trailer & RV Centre
Carefree RV Ltd.
Coach Works RV & Marine
Outback Country RV
Trailblazer RV Centre
Fraserway RV LP
Roadmaster RV
Vision RV
Go RV & Marine
RV City
Western RV Country
Grover RV & Leisure Inc.
Schwab's RV World
Woody's RV World