Van life nomads share their tips for travel
Meet the travellers embracing sustainable full-time van life with their furry companion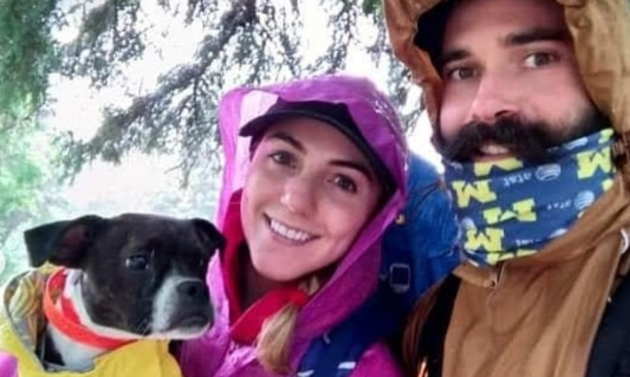 Kaylyn Bacchiocchi and Phillip Marvyn met whilst completing their graduate studies in Immunology at McMaster University, and they have been living a full, adventurous life together ever since.
The couple live full-time in a converted 2011 Sprinter van they affectionately named Sage, and run Kay & Phil, Digital Nomads, an engaging travel blog website with an impressive Instagram account to match.
We wanted to get to know this dynamic pair, and they were happy to answer our questions:
In what ways has your van been converted for camping life?
Sage, our 2011 Sprinter 2500 diesel van (170-inch wheelbase), was originally bought used in February of 2021. Kaylyn bought it from her parents' neighbour—her dad left a note on the windshield of the vehicle asking if it was for sale, and the rest is history! The van was completely empty when Kaylyn bought it, save for a three-person bench seat in the back.
The previous owner had used it to transport his motorcycles for trips. Kaylyn spent months designing her dream van, which she originally built to do solo female vanlife. Less than a year later, Phil was helping out on the build and we were planning our travels together. Sage has plumbing, electricity (powered by solar, alternator, or shore power) and a cassette toilet so we can live off-grid for up to a week at a time. We love finding free camping spots in National Parks or forests, and we're set up to live backcountry or in a parking lot. Our van is extremely stealthy and looks like a commercial van from the outside. We have had no problems camping in parking lots where overnight parking is allowed. We also upgraded our tires (all-terrain) and suspension (4x sumo springs) and we haven't had a problem driving into primitive campsites on dirt/gravel roads.
Our plumbing system has 20 gallons of fresh water serviced by an electric pump to the kitchen and shower. We also have another seven gallons of water in portable jugs, for daily use with another water pump. The jugs serve as our backup water system as they can be refilled almost anywhere. We usually shower at Planet Fitness when we are in a city, but use our van shower when we're camping.
Our electric system comprises of two 170 A/h lithium ion batteries that can be charged via shore power, the vehicle's alternator via a Renogy DC-DC charger, or two 190-watt solar panels. We completely live off our solar power. This includes having wi-fi in the van, daily use of the coffee machine/kettle/air fryer, and plugging our laptop/electronics in to work. We have been blown away by the efficiency of our electronics system!
To sleep, we have a slide-out bed. It's almost a full-sized bed at 51 inches wide. The mechanism works on drawer slides, and during the day we put it away and the area serves as a couch.
We have a lagoon mounted desk, which we use for working and dining. (We also have a) fridge, induction stove, air fryer, kettle and Nespresso machine.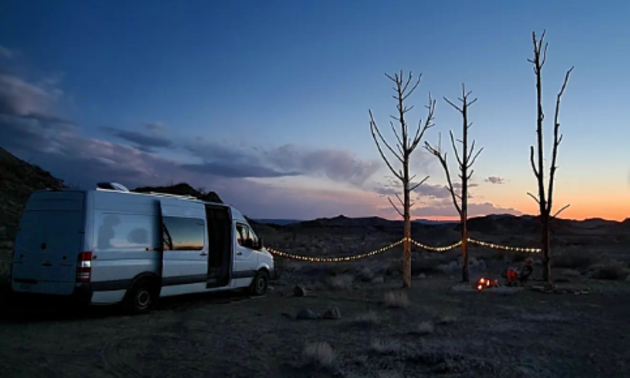 - Photo courtesy Sage Van Life
Where are you from originally?
Phil is originally from Brantford, Ontario. Kaylyn is originally from Toronto, Ontario.
What inspired you to pursue full-time van living?
Kaylyn: I lived out of a rented SUV in British Columbia in September 2020 for a week. This inspired me to move to B.C. after my graduate studies and live in a van with my puppy, Ellie. In February 2021, I bought the van and spent months designing the perfect layout while I finished up my Masters. In August of 2021, I graduated. After contracting out the inital building in the spring, we both took over building full-time in September and completed 80 per cent of the work ourselves.
Phil and I bonded over our love for music, music festivals, camping, hiking, canoe trips, and getting outside and doing fun things. Vanlife was a natural extension of our life, a way for us to spend more time doing what we love, and still be able to support ourselves. I have always had a love of traveling, but after the pandemic it wasn't possible to travel the way I wanted to, nevermind expensive! I chose to pursue vanlife for my mental health, and to take better care of myself. Living in a van really helps me focus on what matters, and I have more appreciation for the world around me as it is continously new and exciting. The beauty of my surroundings doesn't fade to the background. I have been happier living in a van for the last six months than I have ever been living in a house/apartment.
Phil: We were inspired to pursue vanlife because of the freedom, adventure and spontaneous life that a travelling lifestyle can provide. We are free to travel to remote areas with all the comforts of home. But we are also able to kick back and stay in areas that we enjoy! We are not tied to a location or timeline.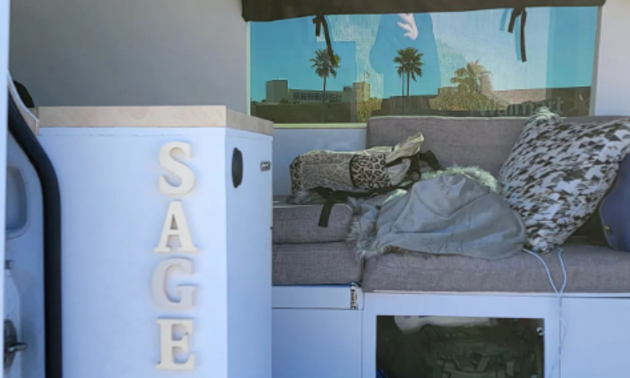 - Photo courtesy Sage Van Life
What do you do for employment while you're on the road?
Kaylyn: We started with just our savings. We took a huge risk spending our time building the van and planned to have enough money to travel for a year before finding employment (on a strict budget of course).
The van is my sole investment, and it was my savings that went into the build and all of its components, electronics system, etc. This was a huge upfront expense, but I saved a lot of money by doing the majority of the build. Phil's experience with electrical and plumbing saved me thousands!
We split our travel expenses (gas, travel excursions, parks pass) 50/50, and we have been supporting ourselves using our savings for the past five months.
We save a lot of money by living in the van (we free camp 99 per cent of the time), and we rarely go out. My biggest expenses are van things, such as repairs (we had to do quite a few), monthly van insurance, and a monthly tow membership (we use Good Sam). Phil pays for our 5G unlimited internet plan.
However, as of May 2022 we found employment at a biotech company working remotely. We work as Research Consultants and use our 5G hotspot to work from wherever we go. Now our lifestyle is maintainable and we can save money by travelling and working part-time! The dream! We plan to be digital nomads for the foreseeable future and have a lot of places we still want to explore. Moving forward, we will start splitting the cost of van repairs, insurance, etc. as we plan on doing this for a long time.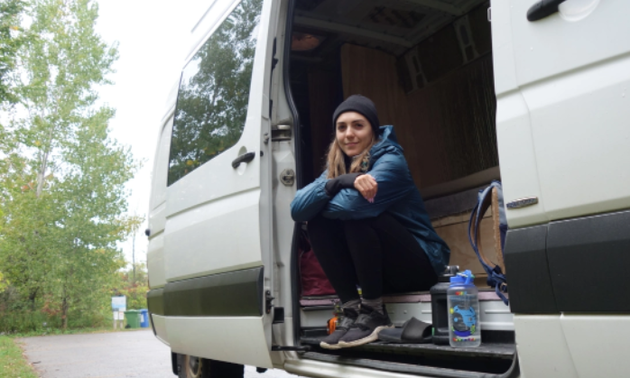 - Photo courtesy Sage Van Life
What are some of the hardest challenges you have faced so far? (And how did you overcome them?)
Oh my goodness!
Van not starting in snow storm, getting towed on our first week of vanlife.
Van battery dying, we had to buy a new one (approximately $300 USD!) two months into vanlife.
Faulty van glow plugs. Replaced all the plugs before realizing it was the glow plug module. We then replaced the module (approximately $800 USD!) also 2 months into vanlife.
Finding water: It's an ongoing challenge. Especially with the droughts this year, and the increasing popularity of travelling/vanlife. A lot of water sources (like gas stations or public use areas) have restricted their use or shut taps off completely.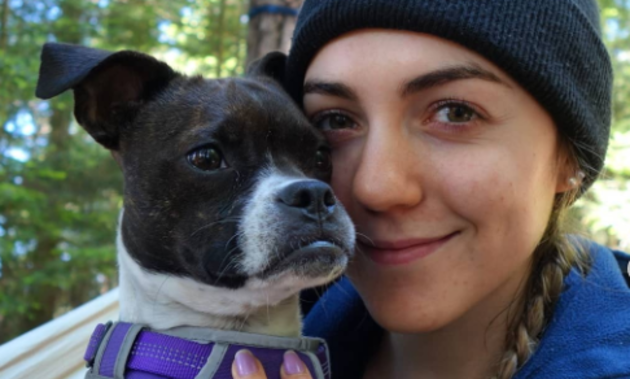 - Photo courtesy Sage Van Life
If you had a piece of advice to give someone considering full-time van life, what would it be?
Just start! Whether you are thinking weekend trips, part time, or fulltime van life—just start! Everything seems so difficult until you start, and you learn how to manage problems that come up. You get better and better as time goes on!
We've seen so many different styles of full time rigs, everything from small cars to giant class Bs, to people living out of their SUVs. You don't need a fancy van to start! You can make it work. Get in your car and try a weekend trip.
Use the apps. iOverlander is our favorite for free camping/water. However, some camping spots we find by word of mouth, trial and error, or even Google maps.
If you can't find water, check out nearby gas stations. Ask permission! If you buy gas, they'll usually happily allow you to fill up on water if they have an accessible tap.