Len Thompson: The lure of fishing
Some of the world's best fishing lures—spoons for casting and trolling—are manufactured in Lacombe, Alberta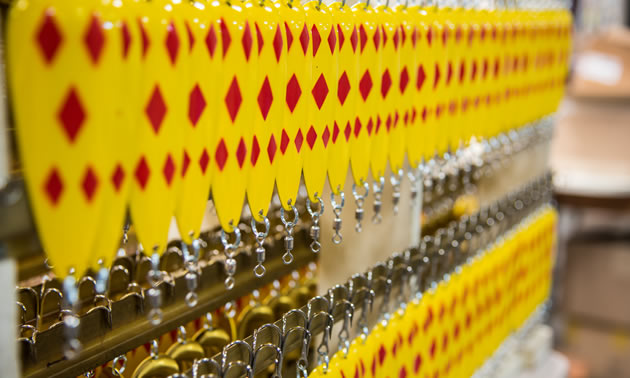 I remember the sun's brassy reflection, smooth on the surface of prairie pothole lakes we fished as a kid—so bright it made my uncle Al's eyes water. I fished for perch back then with earthworms on a snell hook under a red and white bobber. What I really wanted was to cast Len Thompson spoons like the big boys. Uncle Al and Dad launched plain brass, and red and white No. 2 spoons in a pretty arc. Monofilament line hung in the morning air after the spoons splashed. When the line settled on the water, they started to crank.
"Count one, two, three—then crank—one-one-thousand, two-one thousand, not-too-fast," my Dad said, when I finally got to cast a real fishing lure from an open-faced spinning reel on a stiff-backed rod. That first big-boy fish hit me so hard it felt like electrodes sparked somewhere inside of me.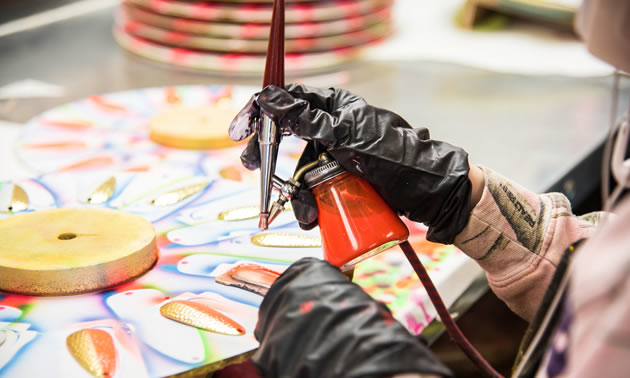 Len Thompson lures have been Canadian-made since 1929. Thompson developed a heavy, easy-to-cast spoon that wiggle-wobbles in a way that fish can't resist. Since 1958, these lures have been manufactured in Lacombe, Alberta. Punched from solid brass on the original press Thompson bought in 1945 for $711, "spoons" are hand dipped in lacquer to keep that brand-new brassy shine, hand painted in irresistible coloured patterns, hand packaged, labeled and shipped all over the world. Even the hooks are attached with stainless steel split rings—all by hand.
Back in 1929, after returning from the First World War, Thompson fiddled with fishing lures. He cut a chunk of tin can to the right shape and beat it with a ball-peen hammer until it wiggle-wobbled in the water just so. Once he got the action right, he loaded it with lead to get the casting distance and run depth he knew was what he needed to fish successfully. Even today Thompson lures are manufactured of heavy brass for casting distance and perfect run depth.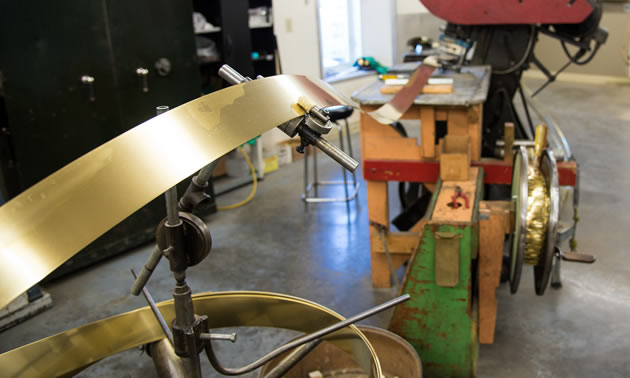 Every year when I sort my tackle box for the season ahead, I figure out which Thompson lures in which patterns and sizes need to be added to the fold-out trays.
Each fishing trip is carefully stacked in my memory, each fish hook-up experienced again every time a fish takes the lure. I have hooked thousands of fish on Thompson lures over my lifetime. I can almost smell shore lunch right now: woodsmoke, sizzling butter, onions, potatoes and a couple of fish fillets fresh from the deep.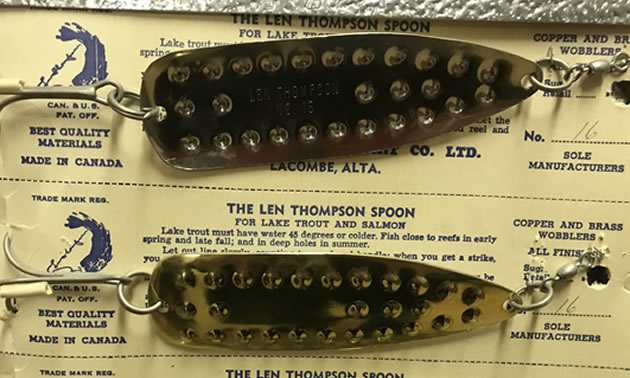 Richard Pallister, Len Thompson's grandson, recently took me on a personal tour of the factory where the Thompson-Pallister Bait Company manufactures Len Thompson and Northern King fishing lures. On the tour I lamented the disappearance of the plain dimpled brass No. 16 they used to sell. The last one of mine was left on a piece of submerged granite in the Northwest Territories.
"Do you think you can find a box of 16 plain dimpled?" Pallister said to one of his guys. He a appeared a moment later with a box of my favourite lure (now out of production).
The wall of brass showing the nearly 90 years of progress of Thompson lures reflected back a lifetime of fishing memories with some of the people I hold dearest to me.
The reflection was enough to make my eyes water.