How driftwood finances one couple's RV adventures
This man's passion for woodcarving has turned into a happy reason for him and his wife to travel around Canada with their RV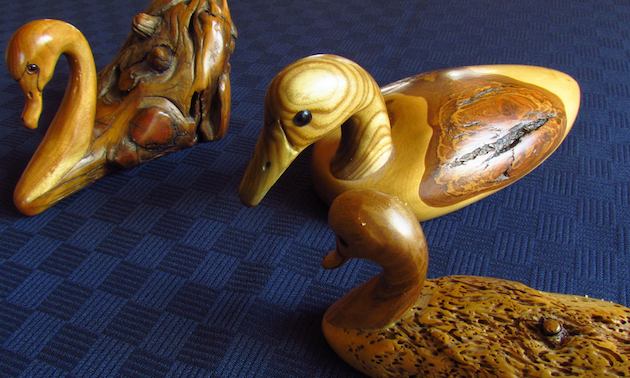 How to afford the RV lifestyle? For 75-year-old Ontario RVer Noble Needham and his wife of 53 years, Aveleigh, the opportunity to explore Canada from coast to coast to coast has been financed by driftwood.
Every spring, the Needhams drive around the country in their RV to gather driftwood and bring it back to their home in Brockville. There, Needham hand-carves it into beautiful shapes and then he ships it back to gift shops in the area where the driftwood was found—from Newfoundland to the Northwest Territories. While Needham said the carving doesn't pay for everything, it gives the Needhams the opportunity to travel a lot.
From hobby to business
"Before I retired from the OPP (Ontario Provincial Police) in 1990, I always had a habit of picking up driftwood," said Needham, adding that he grew up on a lake and always loved the outdoors. "On retirement I had a garage full of it and had to do something with it."
What he calls his "drift ducks" started as some aimless whittling and evolved into a hobby on the advice of his wife and daughter. Ultimately, Needham said, travelling and carving the ducks, herons, swans, loons, whales and walking sticks—"whatever the piece of driftwood dictates"—has become his passion.
"Our daughter was up to visit us one weekend when we were living in Sault Ste. Marie and she said, 'Dad, you're going to have to try and sell some of those,' " said Needham. "She took them back to Brockville and entered them into a carving show and sold just about everything that I had made."
Twenty-three years later, Needham said, his hobby has become "an obsession, you might call it."
Across Canada in an RV
RVing has been and continues to be intrinsic to it all.
"RVing is how we get our product," Needham said. "For example, this coming spring I'm going to need some more wood from the Peggy's Cove area of Nova Scotia, some wood from Grand Manan Island in New Brunswick, and we have two customers from Prince Edward Island and I'm low on wood there, so we'll go around P.E.I. and gather driftwood this spring.
"It's a real big opportunity for us to see our country. Canada is a beautiful place."
Needham said that his favourite places include Newfoundland—because "the people are wonderful there"—and the northern Yukon into the Northwest Territories, up in the bear lands.
"Although (the Northwest Territories is) not as good for wood collecting, it's an opportunity to see a grizzly bear here and there and the caribou and everything else," said Needham.
He added Vancouver Island and the interior of British Columbia to his list of favourite destinations.
"We really have seen Canada from coast to coast to coast," he said.