"Honey, did you see that!?"
Snowbirding with the Smiths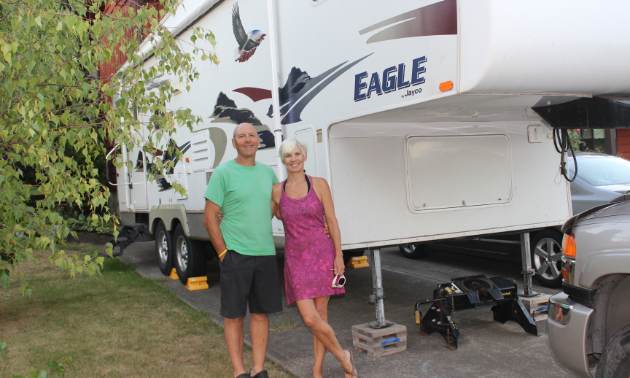 "Honey, did you see that!?" is a sentence you hear from a loved one when something spectacular has just unfolded in your collective field of vision. It signifies a moment of shock, wonderment, disbelief and excitement. Shelley Smith was shouting that phrase so often on her snowbirding adventures with her husband John that she decided to use that phrase as her blog title. "I couldn't think of a name when I was doing the blog," Shelley explained. "But basically, we'd be driving and I'd say 'oh my god' or 'honey, did you see that?' I'd be awed and amazed by funny, interesting, or just unbelievable stuff that we've seen. That's why we went with it."
So what kind of things have a couple of retired overseas teachers seen in their RV travels down south to the U.S. and Mexico? "A guy filling up a trailer with water because he brought a hot tub with him, being passed by a motorcycle gang, or the time we were using the Tijuana border crossing to get back into the U.S. Mexicans kept yelling at us about what line to get in and asking for money while one guy jumped in the back of our truck as we towed our RV to the border." These are just a few examples Shelley gives when describing her RV adventures with John.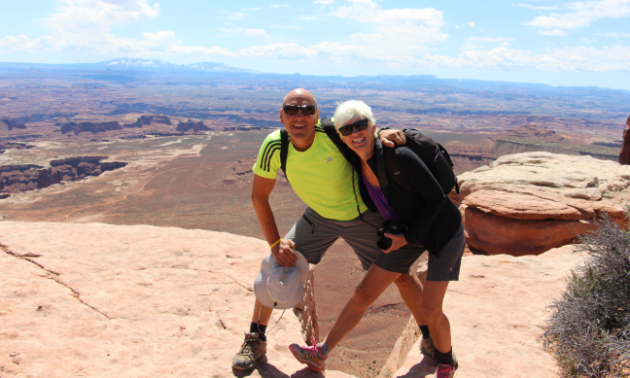 You'd think the Comox Valley on Vancouver Island, British Columbia, would be exciting enough for the Smiths as they nearly got run down by a bull orca when kayaking this summer. "It was going straight for him and at the last second flipped on its side with a swish of his tail," said Shelley. "It was crazy. I'm sure they were looking for fish. I don't think they were looking for orange kayaks!" she laughed. But the West Coast can get dreary over the winter months. "It's the grey that gets us," John admitted. "There's a lot of rain and a lack of sun. When you don't see the sun, it's a downer."
When it comes to the best place to snowbird and stay toasty warm, the Smiths have a couple of suggestions. "The mighty five in Utah—they're pretty spectacular," Shelley said. "That's their big five national parks: Canyonlands, Arches, Capitol Reef, Bryce Canyon—check out the hoodoos—and Zion—steep cliffs on either side. Phoenix is nice too. The temperature is great, plus there's lots of live sports and entertainment. You can see a Coyotes game for 10 bucks, but a beer costs nine! Ha ha!"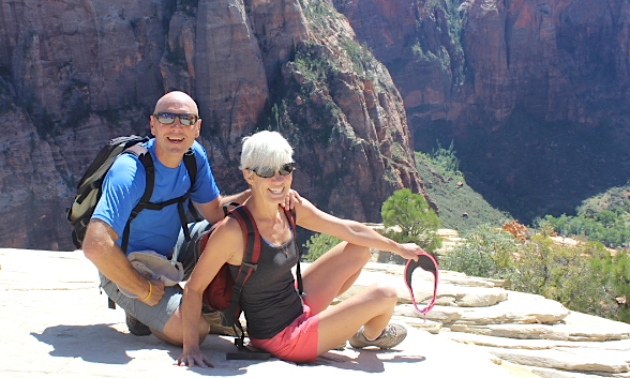 The Smiths have been snowbirding for five years now and their current RV is a 2006 28-foot Eagle fifth wheel. "We started out with a 24-foot Citation," John said. "We just needed a little bit more living space at the back. It's amazing how much that difference makes." Most people have must-have features that they need with an RV and the Smiths are no exception. "We need to have a slide-out, fold-out couch, large back window—lots of lighting—solar panels, shower, walk-around bed, and a second vehicle to haul the RV so you can manoeuvre around cities easier without having to pack up the whole RV," said John.
The Smiths also have some practical advice for starting up your first RV adventure. "Practice backing up before you go. Buy second hand—don't put too much money into it just in case it's not what you want to do." If you're on the fence about snowbirding, Shelley and John Smith have some advice: "Take the leap. Expect the unexpected. Every time you go you learn something."
Shelley Smith writes a blog about her RV road trips with her husband that you can read HERE.