Experience an Escape
You want to buy a trailer that will last, so we always focus on detail
by Lisa Crane —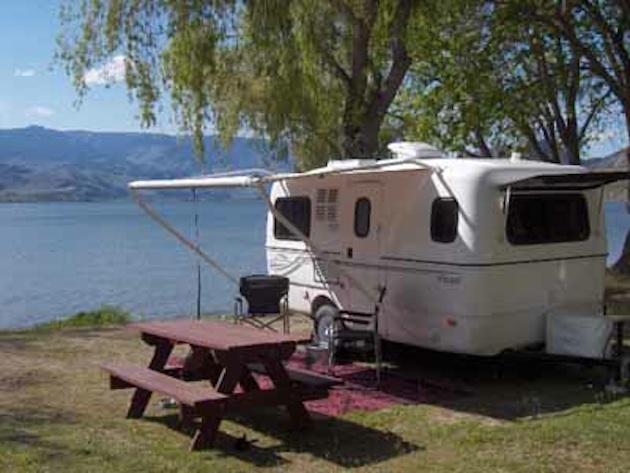 Escape Trailer Industries manufactures a range of RV trailers in Chilliwack, British Columbia. Owners Reace and Tammy Harmatuik developed their company after a lot of research and identifying gaps in the market.
"When we were young and energetic (before kids) and trying to pay the mortgage, we owned a company where we rented out older trailers," said Tammy.
Customers kept coming back with a wish list for the trailers, Tammy said, and this got Reace thinking. With a background in business, he began researching the moulded-fibreglass industry, trailers and the market.
"We had an opportunity to figure out what the common flaws were in current RVs," said Tammy, "and with today's technology we could improve upon that.
"We remortgaged, sold our cars and did everything to invest in the very first mould, and got that onto the market in 2003. It was tough, and in the first year we only sold four trailers."
Since then, Tammy said, the company has introduced its fifth wheel, and it seems the Harmatuiks haven't looked back. This year they will be introducing their 21-foot trailer. Escape Trailer Industries sells directly from its factory in Chilliwack, B.C., where Tammy was born and where Reace has lived for 30 years.
"Reace loves the ideas and the design and implementing them into the trailers—and then watching it all come together," said Tammy. "For me, I am just leaving the teaching field, and I love working with the customers: being able to talk to them and work with them from the initial concept, and when they come and get their trailers—that is the best part."
Something unique about Escape Trailer Industries is that customers are able to custom design their new trailers from the beginning, and Tammy keeps in touch with them through the whole process. She said they can choose everything from the colours of the stripes on the exterior to the countertop and cushion colours.
"Our big thing is quality," said Tammy. "You want to buy a trailer that will last, so we always focus on detail—and our belief is why pay for something that you will never use."
So the couple make sure that their standard features list has grown and expanded, and before a customer orders a trailer, Tammy asks them all sorts of questions about themselves and their trailering needs.
"We listen to what they need, and if they don't want an awning, for example, we will give them a credit," said Tammy.
Another unique thing about Escape Trailer Industries and the Harmatuiks? Owners of Escape trailers get the opportunity to camp with the couple every year at the Nk'Mip Campground in Osoyoos, B.C. Tammy said she really enjoys getting together with past customers. The gathering takes place in July this year, and the Harmatuiks hope to display their new 21-foot trailer.
Tammy said that there are two great new forums for Escape owners and wannabes: check out http://www.fiberglassrv.com and www.escapeforum.org.