A new level of luxury full-time RVing: Meet the 2020 Living Vehicle
This spacious unit is equipped with all the bells and whistles, making it a top pick among snowbirds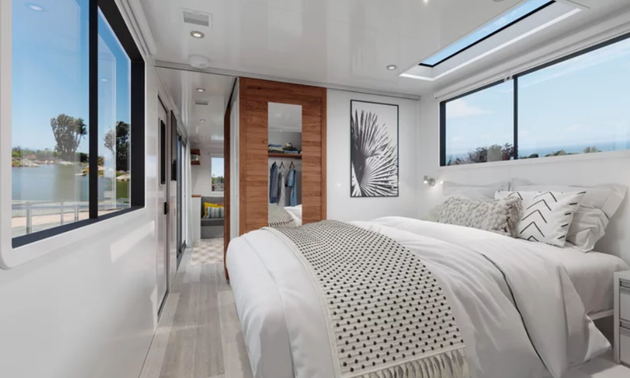 Living Vehicle has outdone itself this time, coming out with a new off-the-grid unit designed for full-time RVers. The 2020 edition can sleep up to six people, and it runs on an automotive-grade lithium battery system, along with having double the solar power as the previous model had.
The shell of the updated, 28-foot unit is made of 100% aluminum, including the chassis, frame, subfloor, cabinets and interior/exterior skin.
Inside you will find a delightfully luxurious interior, packed with amenities. There is a fully integrated deck that can be extended, adding to the size of the living area. It is capable of holding 1,500 lbs and offers enough room for additional seating or cooking space.
The kitchen has an electric-solar fridge, dishwasher, microwave and stainless steel appliance options. You can even get a removable cooking island that you can put outside when desired, and a stainless steel barbecue.
Glass sliding doors and an abundance of large windows and skylights make the unit seem even more bright and spacious. There is a queen-size bed in the master bedroom, with a cool-touch memory foam mattress, skylight and private home theatre system. The dining area can be converted into a second queen-size bed, and a euro-loft option is available for additional campers.