Celebrating four decades of Roadtrek
Roadtrek is celebrating its milestone by offering the 40th Anniversary Edition model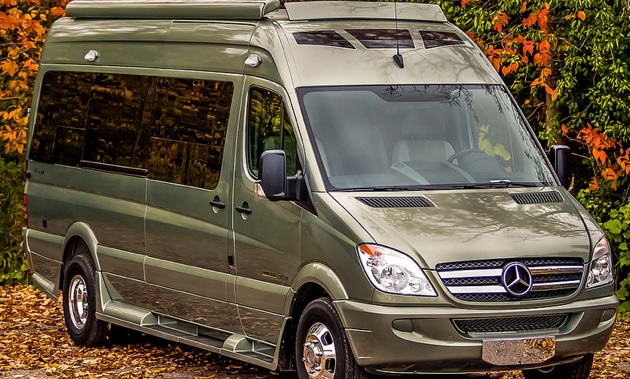 One of the top motorhome building companies hits the 40-years-in-business milestone this year, and it all started with one man and his vision. Ontario-based Roadtrek Motorhomes Inc. (Roadtrek) is North America's number 1 Class B manufacturer and year after year leads the pack in new products and market share.
In 1974, Jac Hanemaayer was checking out RVs and was quite taken with the comfort and space of Class A and Class C motorhomes, but had concerns he would become a "weekend bus driver." Hanemaayer moved along to looking at Class Bs and, although he preferred the increased mobility and ease of the camper van, he was disappointed with the lack of space and comfort.
Born in Holland, Hanemaayer moved to Kitchener, Ontario, in 1953 and worked in a number of industries including land development, residential construction, equipment importation and distribution, and advanced technology to separate liquids and solids. An entrepreneur at heart, Hanemaayer took the concept of the camper van—which he saw as the most practical and convenient—and designed his own Class B motorhome. Hanemaayer hired a small local company, Home and Park Vehicles, to build it and he was so pleased with the final product that he bought the company.
Over the next few years Hanemaayer's small operation produced 30 to 40 motorhomes a year, but in 1980 he transformed the camper van industry forever with groundbreaking design changes. Never a fan of the existing floor plans, Hanemaayer drew from his travels in his own camper van and feedback from customers to identify necessary modifications. He also reinforced his belief that there was a demand for a smaller RV that was easy to drive and park but still as comfortable as a larger motorhome.
Introducing the Roadtrek Van Motorhome—a sleeker and more esthetically pleasing camper van that featured a lowered floor, low-profile roof and innovative three-section floor plan. Other notable changes included four forward-facing chairs that converted into a pair of single beds (replacing the side-facing dinette or sofa and pullout bed), a bigger bathroom and galley (originally shared) that were moved forward to the middle of the vehicle, and a double bed now in the rear of the camper. The first Roadtrek Van Motorhome was sold in 1983 and the company patented a number of its features in Canada and the U.S.
In 1982, Hanemaayer's son Jeff came on board as a summer student and worked his way up to president of Roadtrek by 1985. He spent the next 15 years building relationships with dealerships and expanding the company and then moved into the position of chairman. In 2011, Jeff sold a majority of Roadtrek to Industrial Opportunity Partners, a Chicago-area private-equity firm that specializes in value-added manufacturing and distribution companies. In 2013 he announced his resignation and said he will continue as a director, minority shareholder and landlord, but will no longer be involved on a day-to-day basis. He was replaced by Jim Hammill, the current Roadtrek president.
Over the years, Roadtrek has continued to roll out new and improved motorhomes and currently offers nine models, the most popular of which are the vehicles built on the Mercedes Sprinter chassis. These include the camping-inspired CS-Adventurous, the technologically advanced and eco-conscious RS E-Trek and Roadtrek's newest edition of the Adventurous line, the TS-Adventurous.
"Quality is what sets Roadtrek apart from other companies—Roadtrek's quality and commitment to consumers, (as well as) styling, attention to detail (and) innovative use of space," said Hammill. "(We are) technology driven and Roadtrek owners (are) the most passionate group of people who stand behind our product and our people."
Roadtrek is celebrating its milestone by offering the 40th Anniversary Edition model, which is built on a Chevrolet chassis.
"We kicked off the celebration with an owners' rally in Branson, Missouri, in May of 2013," Hammill said. "We had over 500 Roadtrek owners in attendance over the four-day event. There is no better way to celebrate 40 years than with our 'Roadtrekking' family. We also launched the Special Edition 40th Anniversary Model in fall 2013; this model comes equipped with our new bamboo-style cabinetry, increased head room, solar power panels, hydronic heat and hot water system and four-season RVing (features). We have many more surprises under our belt for this year—we are making sure our 40th anniversary year is one to remember."
Since 1990, Roadtrek has been the leading manufacturer of Class B motorhomes in North America, through a network of independent RV dealers in the U.S.A., Canada and Japan. The company employs 220 people and builds between 850 and 1000 motorhomes every year.
"Our products are more than RVs," Hammill said. "Roadtrekking is a way of life, and a way of life that gives far more flexibility and freedom than the larger concept of RVing. Roadtrekkers can go anywhere, and move fast. It is safer, cheaper, more flexible, more versatile and people love it."