Whistler's three outstanding golf courses
Play one or play them all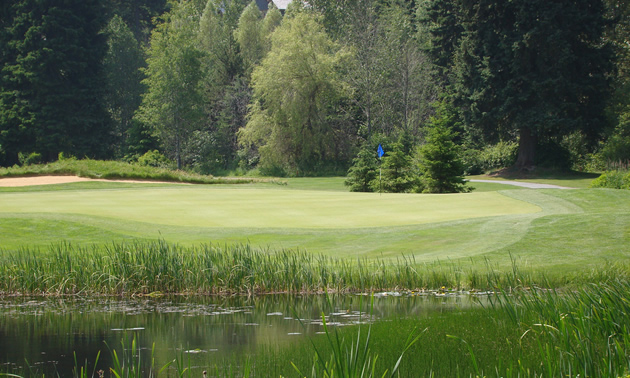 When the Whistler Ski Resort opened for business in 1966, there were no plans for three golf courses. Whistler was designed to be a local ski resort, 78 miles (125 km) north of Vancouver. To quote a famous line from the movie Field of Dreams, "build it and they will come". For Whistler, the building has never stopped, be it Blackcomb Mountain in 1980, the Olympic venues in 2010 or the more recent Peak 2 Peak Gondola. The same growth applied to the three Whistler golf courses. The Whistler Blackcomb Ski Resort has been rated number one in North America, while the golf courses are ranked 19th in Canada by Score magazine. Whistler Golf Club, Nicklaus North, the Fairmont Chateau Whistler and the Big Sky Golf and Country Club in Pemberton are part the Golf Whistler partnership that promotes all four golf courses.
Whistler Golf Course
The name Whistler comes from the whistler marmot that lives in the mountains. Whistler was the first golf course to be built, starting with only nine holes. In 1981 Arnold Palmer redesigned the course into 18 holes, Palmer's first try at designing a Canadian course. In 2000-2001 ten fairways were rebuilt at a cost of $2.2 million. The course in 2012 continued to improve, with the greens seeded with 007 bentgrass.
The course slogan is "Golf as it should be: walkable, playable, fun." Whistler has been very aggressive and innovative in its programs. Director of golf Alan Kristmanson and golf operations manager Luc Binette have used their imaginations and hosted a 007 James Bond tournament, Iron Arnie tournament and the Iron Maiden tournament for women. They have other special programs, including a special rate for five holes after five o'clock, snag golf, quick start tees, free golf for juniors who play a round with an adult, a special rate for B.C. residents, a new practice facility and season passes between $1,000 and $2,000. Very impressive marketing.
Yards from the tips: 6,722, Par 71, C.R. 72.0, Slope 136 (back tees)
Signature Hole - 8, Par 3, 181 yards
Fairmont Chateau Whistler
Chateau Whistler is advertised as a "luxury golf course" and "mountain golf at its finest." Designed by Robert Trent Jones Jr., the course opened in 1993. It quickly developed a reputation as a fine golf course. Golf Digest magazine named it Canada's best new golf course. In 2001 Score Golf Magazine named Chateau Whistler the best resort course in Canada. The course has even hosted a golf academy taught by David Leadbetter, one of the most respected instructors for professional golfers.
Chateau Whistler is built into Blackcomb Mountain and is a hilly mountain course, with elevation changes of 400 feet. The course is surrounded with Douglas fir trees, crosses several creeks and ponds and has undulating greens and plenty of sand traps. The course is environmentally friendly, being an Audubon-certified golf course, one of only 11 in British Columbia.
Chateau Whistler is a good test of golf while giving you a panoramic view of the valley and an occasional black bear. Nick Droulis, golf operations manager, described his course as "a championship course in a resort setting." This course is a real treat to play.
Yards: 6,635, Par 72, C.R., 71.5, Slope 145 (back tees)
Signature Hole - 8, Par 3, 212 yards
Nicklaus North
This golf course appears to be the course of the pros and is one of only two Jack Nicklaus-designed courses in Canada. Over the years Nick Faldo, Greg Norman, Vijay Singh, John Daly, Ernie Els, Fred Couples, Stephen Ames and even Bill Gates have all played here. The course was definitely designed with professionals in mind. Both the Canadian skins game in 1997 and 2005 and Shell's Wonderful World of Golf were filmed here. The layout of the holes is fair for professionals and amateurs, offering risk and reward.
Score magazine since 2002 has consistently rated the course in Canada's top 25 golf courses. When Nicklaus North opened in 1996, Golf Digest named it Canada's best new golf course. Andrew Smart, director of golf, described his course as providing a unique golf experience for all levels of golfers, from the quick tees at 3,000 yards to championship tees."
Although the course is flat, there are plenty of water and trees to get your attention. The course is located near Green Lake and has the last four holes along the lakeshore, including its signature hole.
Yards: 6,961, Par 71, C.R. 73.2, Slope 143 [back tees]
Signature Hole - 17, Par 3, 226 yards
It matters not which course you play. Purchase a Golf Whistler Passport for $399 and play four rounds.