Toughest golf tournament in the world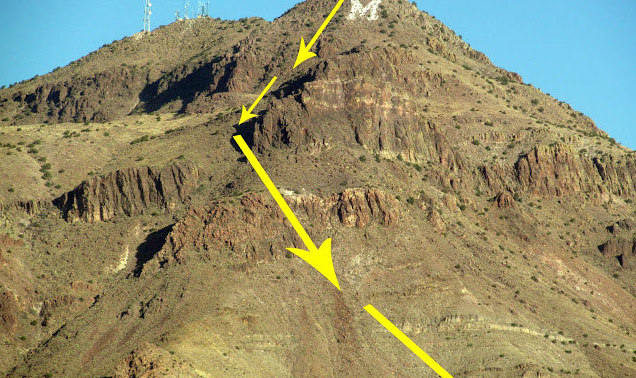 If you were to ask any golfer, "What is the toughest golf course in the world to play," they would probably come up with names such as Carnoustie (Scotland), Whistling Straits (U.S.) or Jade Dragon (China).
Wrong!
Without a doubt, it is Socorro Peak or M-Mountain in Socorro, New Mexico, the site of the Elfego Baca Shootout Golf Tournament.
Only a group of golfers with too much time on their hands after one too many drinks could have come up with this idea. It takes US$100 to enter the tournament along with a hint of insanity.
The list of equipment needed to play in this one-day one-hole tournament includes leather boots, heavy socks, hat, long-sleeved shirt, long pants, canteens of water, bug spray, tweezers for the cactus needles, a first aid kit, binoculars, walkie-talkies, laser range finder and two clubs, an old driver and mid-iron.
Socorro is a small city of 10,000 people, first claimed by the Spanish in 1598 and is 19 kilometres (74 miles) south of Albuquerque, New Mexico. Located in the Rio Grande Valley, Socorro was the end of the trail that led through the Jornada del Muerto or desert that extends south to Las Cruces. The name Socorro means "help" or "aid," which is what the early settlers needed in crossing the desert, as well as anyone who plays the Elfego Baca Shootout. Today the Socorro area is known for its ranching, mining and the New Mexico Institute of Mining and Technology, which co-sponsors this golf tournament.
The name Elfego Baca refers to a former gunman, sheriff, businessman, lawyer and politician who became famous because he survived a shootout in 1884, becoming a local celebrity. As a lawman, Elfego would send letters to those who broke the law, asking them to surrender and adding that if they did not comply, he would shot them on sight. It therefore seems fitting that the golf tournament was named after him.
The Shootout was first played in 1960 to help publicize a traditional golf tournament, the Socorro Open at the New Mexico Tech Golf Course.
The Elfego Baca Shootout starts at the top of Socorro Peak at 2,208 metres (7,243 feet) and drops 777 vertical metres (2,550 feet). Golfers are driven to the top in four-wheeled vehicles to tee off from a wooden platform. Each golfer is allowed 10 balls and must finish with at least one ball or they are disqualified. The balls are custom-made to prevent cheating. The rules allow golfers to use a small piece of carpet as a tee on every shot. The ball can be moved laterally up to 15 metres (50 feet), but not closer to the hole. Any ball not found within 20 minutes is considered to be lost and counts as one stroke.
Hitting down a steep mountainside has its problems, especially with the backswing and finding a flat spot. There are other obstacles which include rattlesnakes, black gnats, scorpions, cacti, old mine shafts, hidden canyons, cliffs, arroyos, creosote and mesquite bushes, and the dry summer heat of over 38 C (100 F). Just reaching the bottom without assistance from the emergency medical team is considered an accomplishment.
The one-hole course is five kilometres (three miles) long, with a chalked out circle on the desert floor serving as the green. Each golfer has up to three spotters, who are strategically placed down the mountain to help find the ball. There is a record of nine strokes set by Mike Stanley, a resident of Socorro, but the record was set before official scorekeepers were assigned to each participant. The average score is between 18 and 21, although the scorecard only permits 75 strokes. For all this pain and insanity over four hours, there is even a little prize money for the top finishers.
The next time you want to complain about how difficult your local course may be, consider playing Socorro Peak and the Elfego Baca Shootout.