Golfing Royal York Golf Course
Prepare to get the royal treatment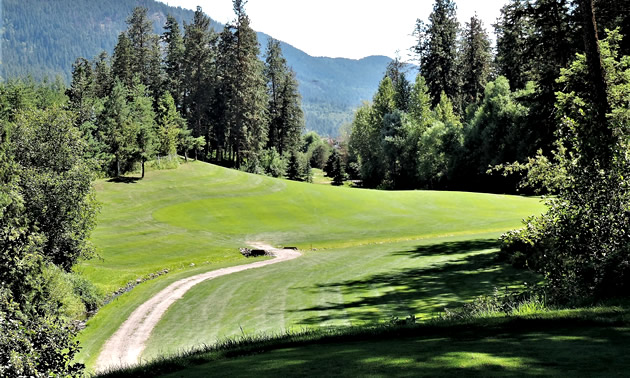 When driving north from Vernon, a golf course along Highway 97A always gets my attention. The public golf course is the Royal York, located a few miles south of Armstrong. More specifically, it is Hole No. 6 that grabs me. As for Armstrong, it is a city of 4,100 people and better known for Armstrong cheese and other agricultural products from the Spallumcheen Valley.
Royal York Golf Course was the creation of Bruce York and his son Todd. They purchased the land, a former hayfield, and began construction in 1988, opening for business the following year. They were not golf architects but that never deterred them. Their source of knowledge was a 1982 book entitled Turf Management for Golf Courses by James B. Beard, a world leader in turfgrass and its science. The book outlines a philosophy which is used today by the United States Golf Association (USGA) to construct golf courses. Starting with the greens, which are the most important part of any course, they used the USGA guidelines to piece together a golf course.
At the same time, Predator Ridge near Vernon was undergoing construction, so father and son paid Predator a visit. By accident, they ended up talking with Les Furber, not knowing he was responsible for designing and building 60 courses across Canada. The following day, two of Furber's men showed up at Royal York to offer advice. The Yorks were off to a good start. Over the years a pond was added to Hole No. 2, 700 trees were planted and a new clubhouse was added in 2010.
Family business
Since its inception, the Royal York has always been a family business. Although many golf courses take the corporate path to success, the Royal York has resisted that approach. As Todd explained, "Royal York has remained a community golf course, largely supported by the people of Armstrong, and serves the needs of a small town. We treat our golfers as neighbours, because in a small town, they really are our neighbours. In addition, the employees are also family, including my wife, two sisters and extended family members. Dad, at age 86, continues to work on the course."
During my interview with Todd, a local golfer came in and the two haggled and joked about the green fee, something rarely seen at a public or private golf course. Todd reduced the green fee by $3 and everyone went away happy.
Royal York is nine holes, par 35, 3,118 yards, course rating of 69.0 and slope of 121 from the back tees. The course was designed to become more difficult with each hole. The first hole is 336 yards, with a slight dogleg right. Hole No. 2 is a stretched par three at 206 yards with a pond left of the green. Water also comes into play on holes No. 3, 4 and 7. Holes 6 through 9 are the meat of the course and will determine the final score. Hole No. 6, the only par five at 518 yards, starts with a blind shot to the left of the fairway. This is a double dogleg, with the green tucked around trees to the right. Sand traps guard a narrow entrance to a sloped green. Not easy!
The Royal York web page describes the golf course as "unique and deceivingly difficult" and this hole is proof. Hole No. 7, the signature hole, is only 140 yards but it is all carry-over thanks to Maghan Creek ravine. Hole No. 8 is 417 yards with trees/bunkers along the entire right side. The finishing hole is 444 yards and the No. 1 handicap hole. The course is nearly flat, so walk or ride.
The clubhouse is very distinctive looking, with open beam construction, appearing very "royal" from the outside. The Fairways Bistro with chef Darren Bezanson not only serves golfers but also caters for weddings, staff parties and special events. The pro shop is equipped with largely golfing attire.
If you're looking for a dream home on a golf course, consider Royal York Estates. They build/sell single-family homes, townhouses, ranchers and custom homes. Contact [email protected].
Next time you travel Highway 97A and you catch a glimpse of Hole No. 6, stop and play nine. It is time well spent.