The MoonShade awning garners rave reviews
RVers can have a portable source of shade this summer, thanks to this essential accessory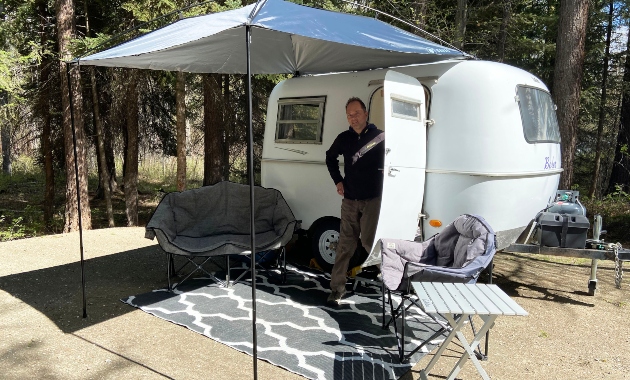 If you're RVing this summer, there is a new accessory you'll want to pick up. The MoonShade awning will keep you protected from the elements, so you can sit outside with your family and relax in comfort.
Phil and Deborah Budiselich field tested the MoonShade on their 1973 Boler. They said they had been searching for an awning that they could use with their RV, and discovered that the MoonShade was the perfect size. We asked them a few questions about the product and why they loved it:
How easy is it to set up the MoonShade awning?
Set-up was pretty easy, kind of like setting up a tent—no big deal. It has its own frame. The only tricky part is to figure out how you're going to attach it. (It depends on) what you're attaching to—whether it's a vehicle or a trailer, and whether it's an aluminum, metal or fibreglass trailer. There are several different methods of attaching it (suction cup, magnet, etc.) So that's the only tricky part, figuring out what is best for you.
It is attached to our 1973 Boler and that's fibreglass.
How did you attach the awning to fibreglass?
We used little suction cups with hooks.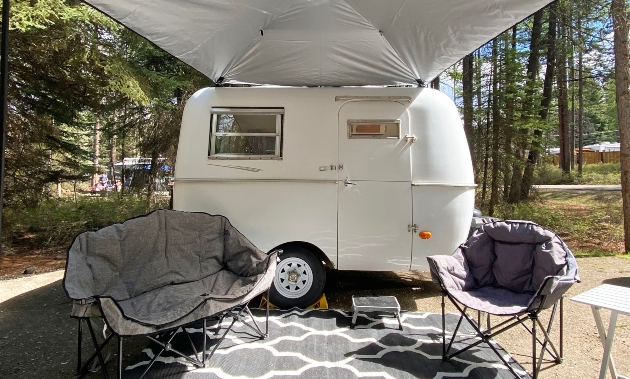 - Deborah Budiselich photo
Did the suction cups hold the awning in place?
(You have to get them) in the right spot, because they need a nice, flat surface and the Boler is very round in every direction. So it seemed like they were good when we first got them attached. However, a couple hours later when we got little gust of wind, they came off pretty easily. On our next attempt, I think we're going to try something different.
You can also put Guy Lines out. So maybe had we guided it, the wind wouldn't have caught that corner and pulled the cups off. It is the perfect size for smaller trailers, but it can probably work on any size.
You've just got to figure out the method of attachment that's best for what you're putting it on. We only tried one. So I think this weekend we'll try a different one.
Set-up (besides the attachment part) was easy, it all clicks together. It's super light and very compact. It's not for (heavy) rain—it's more for shade, or a little sprinkle—light duty. It's also not big. You're not going to fit ten people underneath it in the shade.
The only improvement (I could suggest) would be to the attachment system, but I think that's because we only tried one out of three methods. I think the magnets will work the best, because they're heavy duty. You stick them on something and they're solid. So if you're sticking it on a vehicle or aluminum metal they'll work.
What is the styling like?
It looks good, it's nice and it kinda matches. We had been looking for a couple years trying to decide what to get.
To learn more about the MoonShade awning, check out the company website and YouTube channel.