The Kipor IG3000: a perfect balance between power and size
Clean power, long run-time and a virtually silent motor
by Kimberly Schoenberger —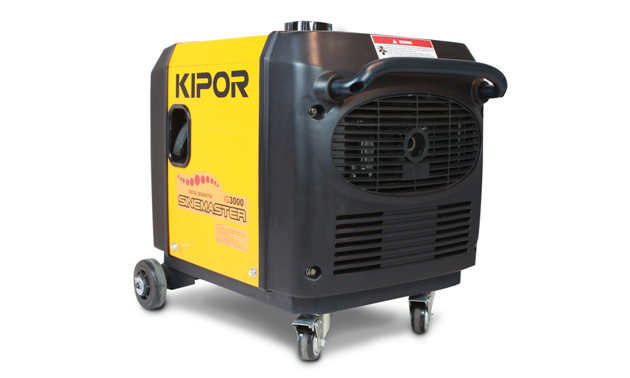 With its products in more than 150 different countries across the globe, Kipor is one of the most widespread power equipment distributors in the world. In Canada alone there are 75 different dealers that offer Kipor's products.
One of the top-selling engines sold by Kipor is the IG3000 Inverter Generator. This electric-start generator powers most RV air-conditioning units, and is very popular due to its long battery life.
"This model is the perfect balance between output power and size," said Neil Vanderkooi, director of business development at Visionary Motorsports. "It has the top features most people are looking for and has enough power for most."
On a full load, the IG3000 will run for eight hours with just a single tank of gas—the second longest of any of Kipor's generators. The battery is maintenance-free.
"Kipor digital inverter generators offer increased run time and efficiency over traditional generators, as well as offering a clean power," said Vanderkooi, "meaning they are safe for running sensitive electronics such as TVs, laptops, gaming systems, cell phones and more."
The 132-pound engine has a maximum output of 3000 watts, making it ideal for large devices as well, such as a heating and air conditioning unit or automatic washer.
"The IG3000 also features electric start, a larger tank for long run times and backup pull start," said Vanderkooi. "It is the perfect RV generator, priced up to 30 per cent below the competition."
This particular Kipor generator has locking swivel wheels attached to the base, allowing for easy transportability. With a low noise level that runs between 54 and 59 decibels, this model is great for anywhere with noise restrictions.
"The IG3000 features a fully enclosed, insulated design," said Vanderkooi. "Which, combined with the inverter technology, means extremely silent operation—perfect for use in campgrounds and other noise-sensitive environments."
Kipor offers a warranty of 36 months on the IG3000 from the date of original purchase, one of the best in the industry. All generators purchased from Kipor also come with a free accessory kit that contains a 12-volt DC charging cable, wrench and handle, oil fill bottle and spare spark plug.
For further information on the IG3000 or any other Kipor products, check out www.kiporpowersystems.com