GH camp director's chair
An RVer's product review of the GH camp director's chair
by Dawn Bitz —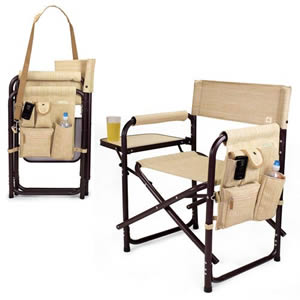 Who says camp chairs need only be functional without a shred of style? The team at Grasshaven Outdoor don't think so, which is a belief they have translated into the GH camp director's chair.
This piece of camping equipment offers form and function in one portable package. Although this chair is readily tucked into the storage compartment of an RV, it easily pulls out to create great-looking seating at the campsite.
The cream-coloured Textilene fabric is durable, cleans easily and looks sharp, while the 19½-inch-wide seat and aluminum construction offer a sturdy seat and ample comfort after a day of exploring the outdoors. Side pockets provide a spot for gadgets, while the folding side table is the perfect spot for storing a cool drink. A total package, the GH camp director's chair is a stylish and functional addition to any campsite. For more information and purchasing details, visit the GH camp director's chair page. For inquiries about shipping to Canada, please call the Grasshaven team at 303-717-4110. They will be happy to help.
For more stylish RV housewares and camping furniture options, visit the Grasshaven website.