Campground cauldron
This hearty recipe, specifically created for RVers, involves a little preplanning for many easy and yummy meals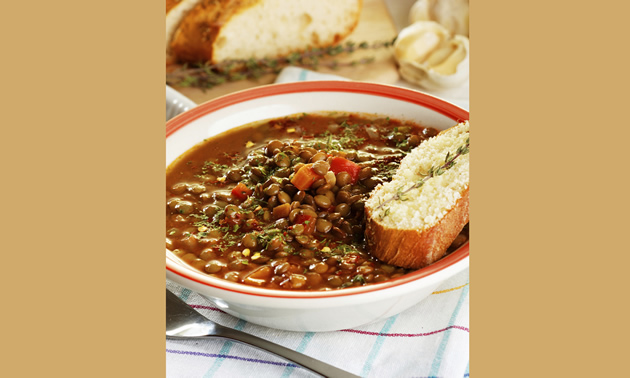 Janet Groen writes Camp and RV Cook, a reader-friendly blog for those on the road. She has also written Cooking Aboard your RV, a handy and comprehensive guide that has supplied this recipe for RVwest.
"The best thing about this hearty soup recipe is that the dry ingredients can be bought in bulk and packaged by the batch for many campouts to come," said Groen. "Lentils and dried peas can be cooked without soaking, but dried beans require more time for soaking and cooking. Don't be tempted to add dried beans to this recipe."
Campground cauldron
1-pound bag of dried brown lentils
1-pound bag of dried red or yellow lentils
1-pound bag of dried green peas
1-pound bag of dried yellow peas
Mix the dried peas and lentils, then package them by the half cup in reusable, zip-top snack bags. When ready to prepare at camp, pick over peas and lentils, rinse thoroughly and drain.
Bring four cups of water to a boil in a three-quart kettle. Then add the following:
One snack bag of pea-lentil mix
1/4 cup dried onion bits
2 bouillon cubes (chicken, beef or vegetable)
Cover pot, reduce heat and simmer 30 minutes or until vegetables are tender. Then add:
1 can of chunk chicken, about 10 ounces, with juice
14.5-ounce can of mixed vegetables with juice
14.5-ounce can of diced tomatoes with juice

Heat thoroughly, stir to break up chicken and add herbs or seasonings to taste. If soup is too thick, add water, broth or tomato juice to taste. Serves 4 to 6.

Pressure cooker method: proceed as above but bring pea-lentil mixture with onion, bouillon and water to full pressure for 5 minutes. Set cooker aside and let pressure normalize on its own. Stir in remaining ingredients and heat through.
Cook's notes: This recipe applies to cooking at low altitude. Cooking times at high altitude may be longer.