Red Bluff is all about cowboys and crawdads
Don't miss the farmers' market
by Kimberly Schoenberger —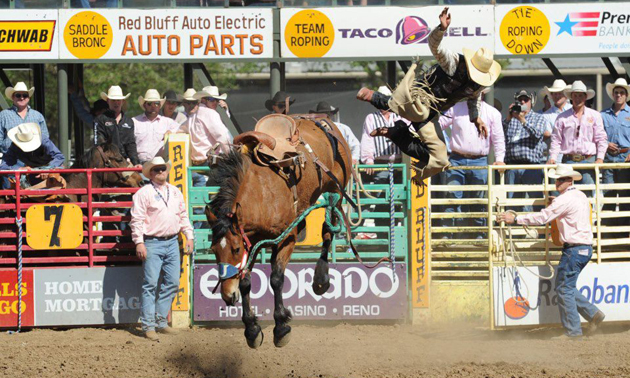 Aptly named for the scenic bluffs along the Sacramento River, Red Bluff is a city known for its Western culture and cowboy-based appeal. The California city has been the residence for a variety of prominent people, including actor Tom Hanks and major league baseball pitcher Jim Davis.
Cowboy culture
"The culture and identity is really cowboy and Western," said Dave Gowan, president of the Red Bluff Chamber of Commerce. "We have one of the best small rodeos in the nation—it's in the third week in April every year, and it's called the Red Bluff Roundup."
The Roundup consists of a variety of competitive events, including saddle bronc riding, Brahma bull riding, steer wrestling, team roping, barrel racing and even a wild horse race. When spectators aren't on the edge of their seats in the arena, they can also experience the other entertainment of the Roundup—chili cook-offs, a car show, food booths, pony rides and a grand parade that makes its way through the whole of downtown Red Bluff.
The very first Red Bluff Roundup was held in 1922, and the event has been a driving force in the community ever since. There's even a Roundup museum in Red Bluff, with displays of signs, hats and even a picture of the 1922 Grand Entry for the event.
"We also have an extremely large bull sale in January every year," said Gowan, "the West Coast Monster Truck Finals each year in October, and an extremely large crawdad festival in June."
Crawling with crawdads
Aside from the Roundup, the Red Bluff Crawdad Festival is one of the city's biggest annual events. Each year, thousands of crawdads are shipped from Louisiana for Cajun cooking and festivities.
A crawdad, also commonly known as a crayfish, is a close relative of the lobster—both in appearance and in taste. The mascot for the event is a large red crawdad with a big smile on its face—a bit of a strange choice of expression, considering that the whole festival is about eating it.
The festivities include dance lessons, musical talents, a car show, monster truck rides and a particularly fun spectacle of a celebrity crawdad eating contest. Kids also get to have their own Fun Zone, equipped with laser tag, arts and crafts, water slides, bouncy houses and fire truck rides.
Homegrown goods
The Crawdad Festival and Red Bluff Roundup may only happen once a year, but the city's two farmers' markets run for the whole summer, including September. One of the markets takes place on Saturday mornings at River Park along the Sacramento River, and the other on Wednesday nights in the city's historical downtown.
"Our downtown association is a historical site," said Gowan. "There's 144 businesses that hold special events, especially on weekends. It's been the downtown for Red Bluff since 1960, and there's a lot of quaint little shops."
The farmers' markets have a variety of goods available for purchase, all grown, made, or processed right in Red Bluff. Shoppers can find fruits, vegetables, art and other organic merchandise right on their front step.