Top things to see and do in Quartzsite
A tiny community with a whole lot going on, Quartzsite is a favourite snowbirding locale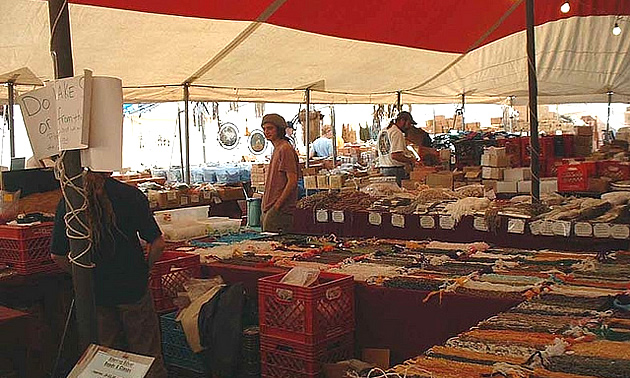 Camping in Quartzsite becomes incredibly popular during the winter months, when an array of shows and events hit the town. More than a million snowbirds make their way through this community each year. Here are some of their favourite stops.
1) The QIA Pow Wow and World-famous Gem & Mineral Show
With well over 400 vendor spaces outdoors, and 70 indoors, it's no wonder this event is the toast of the town. There are shuttle services running from the parking area to the main hall, and a wide variety of gems, minerals and jewelry for sale. There is also a pow wow that raises funds for the Quartzsite Improvement Association (QIA). For more information, visit the Gem & Mineral Show website.
2) QIA Craft Fair and Sale
Held on the first Saturday of each month from November through March, this craft sale brings an enthusiastic crowd each year. There are all types of handcrafted items for sale, so be sure to stop by while you're in the area.
3) Celia's Rainbow Garden
Created in memory of a brave local child, Celia Winer, Celia's Rainbow Garden stands out as an oasis in the desert. Visitors and residents continually add to the garden to honour Celia, a testament to the compassion in the close-knit Quartzsite community.
4) Tyson's Well Stage Station Museum
Maintained by the Quartzsite Historical Society, this museum is located at 161 West Main Street. Here you can see artifacts and exhibits contributed by locals, and attend events that will enthrall any history enthusiast.
5) Quartzsite Roadrunners Gem and Mineral Club
This club specializes in rockhounding, silversmithing, lapidary and all other things gem and mineral oriented. If you are in Quartzsite regularly you might want to become a member of this club. Doing so allows you access to their classes, field trips and informative meetings that can enrich your hobby.