Exercise both your body and your mind
The opportunities to explore this beautiful part of Arizona will give your muscles a workout and stimulate your mind as well
by Thomas Shirtliffe —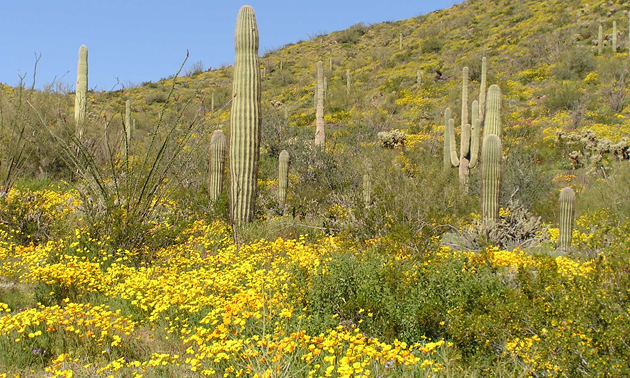 In the heart of Arizona's McMullen Valley not far from Quartzsite is a town called Salome. It's a town with a small farming community combined with a retirement community. Salome isn't a large town during the three seasons that precede winter—with 1,500 to 2,000 people residing there—but when winter comes, so do the many snowbirds. According to Harry Fornwalt, who runs Desert Palms Golf and RV Park, in the winter months the population of Salome swells to between 10,000 and 12,000 people.
With that many people coming here every winter, you know there must be something here to attract them year after year. There are a number of activities that you can partake in when you visit Salome, as well as ways to just kick back. But it isn't just the activities that keep people coming back, it's the relationships they make.
"In an RV community, you need to get out and you need to make friends," Fornwalt said. "That's what people like about the RV lifestyle."
A hole lot of fun
Golf is a game enjoyed by people of all ages, and you will find a couple of courses in Salome that can help keep your game sharp. Desert Palms Golf and RV Park has a nine-hole executive course on site. Greasewood Golf Course, another nine-hole course, is located in Centennial Park.
Hike into mining history
If you are in need of a little exercise, look no further than the Harquahala Mountains. Located just outside Salome, they provide a terrific opportunity for hiking and exploring. If you are a bit of history buff, you will definitely appreciate the many abandoned mines that you will find all over the mountains. There are even a number of arrastras that were used to grind up ore. Some arrastras are still in pristine condition, though they haven't been used for over 100 years when the mountain was being mined for ore. There are several tours available in the area—some as far away as 50 miles from Salome—that take you right into the heart of some of these old abandoned mines.
Get up close to a geoglyph
Another point of interest for a history buff would be the Bouse Fisherman Intaglio. The glyph, which depicts a man fishing with a spear by water, is a fairly large figure that was created by Indians many years ago. A scenic drive takes you to this historic site; head down Plomasa Road and you will find the site between the town of Bouse and Quartzsite.
Take a seat and enjoy
If arts and culture are of interest to you, then check out the Del E. Webb Center for the Performing Arts. This facility, located in nearby Wickenburg, hosts quality entertainment such as operas, symphonies and plays. The centre offers a great night out of the RV and the chance to experience a taste of culture.
For more information about this region, visit the Arizona Outback website.