Top 5 attractions in Northern B.C.
You can't go wrong if you include these highlights in your Northern B.C. holiday.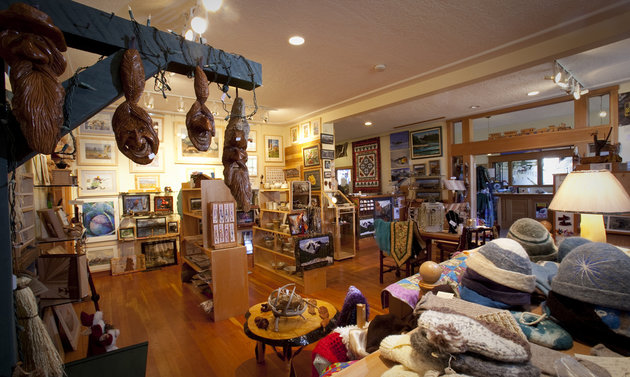 Planning an RV vacation to Northern B.C.? Make it a tour, and check out these exciting arts and culture locations during your holiday.
The Whistle Stop is located at 1000 - 1st Avenue in the Heritage Railway Station in McBride, and it houses the work of more than 96 local artists and artisans. Since it was founded back in 2000, this gallery has earned a reputation as being one of the top indoor attractions in the Robson Valley. Here you can also pick up a brochure for the scale model solar system exhibit, which is set up along McBride's main street, and adds a fun twist to a walking tour. The Whistle Stop is open from 10 a.m. to 4 p.m. daily.
This colourful museum celebrates Mackenzie's development. You can step back in time and peruse artifacts and photos highlighting the local forestry industry, First Nations history and other integral parts of Mackenzie's background. One of the most popular attractions is a series of oil paintings by Marge McDougall, depicting First Nations people between 1959 and 1965. The museum also is home to a 178-ton tree crusher that was used during the creation of Williston Lake.
A family-friendly attraction located in the Valemount Historic Railway Station, Valemount Museum is a must-visit. You can visit between May and September, and take in all sorts of exhibits that teach guests about railway history, and the origins of Valemount. Admission is by cash only, and the fee is reasonable (adults $3, children $2 and families $8). There are three levels of exhibit space in the main building, where guests can see a restored CN caboose, Japanese internment camp display, a model railway and artifacts from the logging and agricultural industries.
Bring the kids to Fort St. James National Historic Site, for a fun learning experience. This site houses the largest group of original log buildings from Canada's fur trading days. Get an authentic taste of what life was like back in the 1800s, and check out the regular community events that are hosted here. This structure was originally established by Simon Fraser for the North West Company, back in 1806.
Last, but certainly not least, The Exploration Place is bound to leave you mesmerized. There are extensive exhibits here, allowing hands-on learning and engaging visitors time and time again. There are galleries focused on children's attractions, paleontology, First Nations history, and the Prince George Sports Hall of Fame, to name a few.