The Desert Botanical Garden is a cacti wonderland
Phoenix, Arizona, is home to diverse and colourful vegetation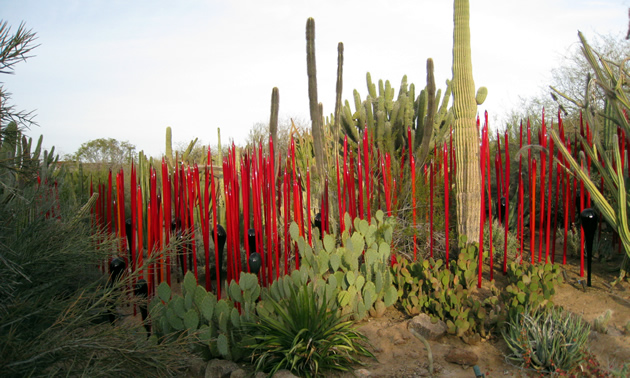 The Desert Botanical Garden in Phoenix, Arizona, exhibits a passion for desert plants. Visitors will see why as they walk the garden's Sonoran Desert nature paths and hiking trails. Hike a mountain and get a bird's-eye view of the gardens. You might even catch a glimpse of the three different species of hummingbirds that call the garden home.
The individual loop trails of the botanical garden showcase how Sonoran Desert plants have been used by Indigenous people for food, medicine and building materials. Plants and People of the Sonoran Desert Loop Trail is one of the largest exhibits of its kind. Its purpose is to help people understand the intricate cultural relationships between people and plants in the region through examples of the traditional Tohono O'odham, Western Apache and Hispanic households.
A year-round culinary experience is offered at the Desert Botanical Garden, with the signature Gertrude's restaurant and a seasonal Patio Café option for outdoor dining. Gertrude's offers a fresh food experience at the garden, focusing on ingredients sourced directly from farm and pasture. Plan a sit-down meal here to see what makes Gertrude's a Diners' Choice Award-winner.
The Desert Botanical Garden's Schilling Library features more than 9,000 books and 500 journal titles, focusing on native plants of this desert region. Books on desert gardening, landscaping and sustainable practice guides, rare and endangered plant resources, desert natural history, ecology and wildlife, plant evolution and taxonomy resources, ethnobotany (people's uses of and relationship with plants), medicinal plant guides and many works of botanical illustration are all found in this expansive library.
The Desert Botanical Garden gift shop offers many different products and brands, one of the most popular being Prickly Pear, which crafts treats like cactus salsa, tea, margarita mix, jellies and candy. The shop also carries seed packets and accessories so visitors can take a bit of the desert home with them.
The garden is open daily from 7 a.m. to 8 p.m. It opens an hour early on Wednesdays and Sundays for members only. The garden hosts its Community Day the second Tuesday of every month when admission is free. The garden hopes to promote sustainability, stewardship, authenticity and accountability to the local biome.
For more information about the garden and to plan your own trip, visit the website at www.dbg.org.