Skip the grocery store
Tolmachoff Farms is a fun place to stop for an afternoon
by Glynis Fediuk —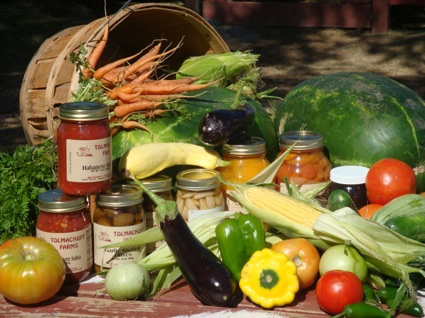 Even the best store bought tomatoes pale in comparison to a fresh one straight from the vine. But fortunately for those travellers craving a ripe Brandywine, at Tolmachoff Farms, visitors can buy these and numerous other fresh crops from the farm's produce stand.
"We usually only have the tomatoes in the summer, but we are trying for another tomato season this fall," said Gracie Tolmachoff, one of the farm's owners. "It should be ready in mid-October. In the desert, you can't get a good tasting tomato—they taste like cardboard. People have a hard time growing them in the desert, but because the farm is irrigated, we have good luck with them."
In addition to their ten varieties of tomatoes, Tolmachoff Farms grow nearly 20 different crops. The produce stand is open seasonally; it closes during August and September and reopens in October when their pumpkin crop is ready to go. Pumpkins are available at the produce stand and on a u-pick basis.
For those looking for a bit of mid-afternoon adventure, there are three corn mazes at Tolmachoff Farms. The largest spans six acres and can take anywhere between 45 and 90 minutes to solve. Participants built a map using pieces found in mailboxes scattered throughout the maze.
"It's like putting together a puzzle—everything is numbered, so when they're done they'll be able to find their way out," said Tolmachoff.
Tolmachoff Farms is located just outside of El Mirage in Glendale, Arizona.