Photographing desert sunsets and mountain views
Local photographer Dana Yeager offers tips for shooting Chandler, Arizona—a stunning destination for the wandering photographer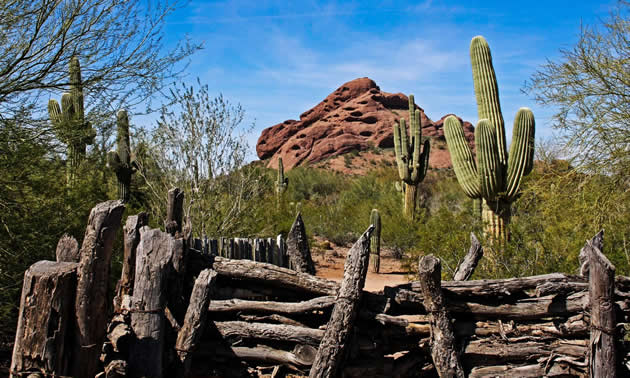 Originally a farm town, Chandler, Arizona, offers a relatively peaceful alternative to the busier destinations that lie just to the north. Quiet urban lakes and an historic downtown offer plenty of opportunities for photographers. It's also a great base from which to discover the surrounding area.
"Arizona has it all," said Dana Yeager, a long-time resident of Chandler and an avid photographer. "We've got desert and we've got mountains . . . there's not much that you can't find in Arizona. If you're in Chandler you're pretty much in the middle of the state—you can go wherever you want from Chandler."
Yeager most enjoys shooting landscapes, an obvious subject given the dramatic area surrounding his hometown. Veterans Oasis Park, in the south end of town, is one of Yeager's top suggestions. It offers a chance to take pictures of birds and the San Tan Mountains while strolling around a man-made lake.
Places to shoot
South Mountain, outside of Chandler to the west, should be on the radar of the more adventurous. You can either drive right up to some excellent views or can tackle some of the moderate hiking trails. Either way, photographers can enjoy the valley vistas and desert terrain.
To really photograph a classic desert scene, Phoenix's Desert Botanical Garden is a must. It's about 20 minutes north of Chandler and can be found near the Phoenix Zoo and Papago Park. Visitors will be able to learn about the flora and fauna of the local ecosystem while getting photos of the saguaro cacti that are emblematic of Arizona, along with other desert landscapes.
Day tripper
Looking for a photo outing that will really give you some great images? Yeager loves to drive the Apache Trail, a day trip from Chandler that leaves town heading east on State Route 88. Part of the Apache Trail is unpaved, but a car shouldn't have any problem. At Theodore Roosevelt Lake, day trippers can decide to go left or right on Highway 188 to return to Chandler.
"There's more out there than you can imagine," said Yeager. "Once you leave Canyon Lake and go to Tortilla Flat, which is a touristy thing, it's a (maintained) dirt road and it's beautiful. It's a really nice day trip from Chandler. It goes by the lakes, it's in rugged mountain canyons—it's just an awesome trip."
Even just a shorter trip to Canyon Lake is worth a photographer's time. A steamboat ride on the Dolly is a fun activity that may even result in spotting some desert bighorn sheep.
Sunset tips
And, finally, if you're in Arizona, make sure to get a brag-worthy photo of one of the state's famous sunsets. Yeager has an array of sunset experience and some great tips.
"People tend to take a picture of just a sunset and you'll notice that most of mine have something in the foreground," he said. "Just taking a shot of the clouds is too simple—it's boring. So, long before sunset, you'll want to be somewhere. You'll see that I like palm trees in my sunsets, or lakes . . . I took some really cool pictures where there's a canal and a whole bunch of our power lines running through. It made a really neat picture. If I can make a power line look cool I'll put that in a picture. Some people hate them but at times, if you've got nothing and sunset is coming, hey, a power line is better than nothing."