Botanical beauty
Boyce Thompson Arboretum is a museum of living plants open to the public
by Lisa Crane —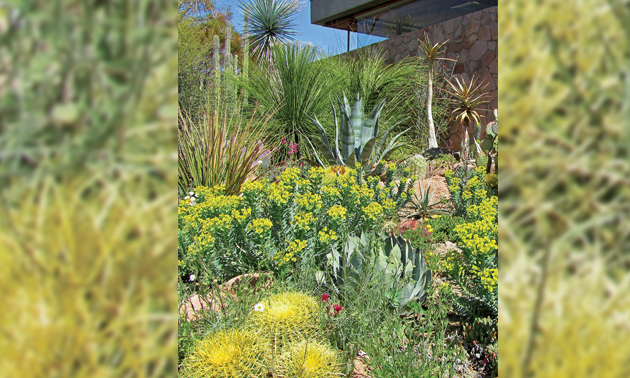 Boyce Thompson Arboretum, located less than an hour's drive from the Phoenix Sky Harbour International Airport, is well worth a visit. The arboretum is jointly run by the non-profit organization, the Boyce Thompson Arboretum Inc., Arizona State Parks Board and the University of Arizona.
"Boyce Thompson Arboretum is located in an amazing natural setting at the foot of Picket Post Mountain," said Kim Stone, information co-ordinator. "Though it is surrounded by palo verdes, saguaros and other classic elements of the Sonoran Desert, the arboretum is better known for its trees, shrubs, cacti and succulents from arid-land regions around the world."
The arboretum covers 323 acres of botanical beauty, and visitors can experience a wide range of habitats while exploring the trails and gardens. Check out man-made Ayer Lake, which is the arboretum's main source of water and home to myriad wildlife and fish. Plant enthusiasts can visit the displays, such as the cactus garden, which offers a unique opportunity to study a living collection of more than 800 kinds of cacti.
For whatever piques your interest
A plethora of activities are also available at the arboretum. You can participate in the annual salute to the park's Turkey Vultures, join a tour such as the guided butterfly walk or polish your skills in a photography class. Buckboard Cafe is on site to keep you nourished.
"We are a growing leader in the conservation of arid-land plants," said Stone, "and we plant everything to integrate seamlessly with the striking volcanic rock formations that form the bones and backdrop of the arboretum's grounds."
The facility appeals to people for many reasons.
"Our visitors are plant lovers, photographers, birders and a wide range of nature enthusiasts, who love the arboretum's intentional balance of structure and wildness," said Stone.
Become a member and support the arboretum's mission: to instill in people an appreciation of plants through the fostering of educational, recreational, research and conservation opportunities associated with arid-land plants.