Catch of the day at Pedder Bay
Ocean views and spacious pull-through sites make this a premier RV destination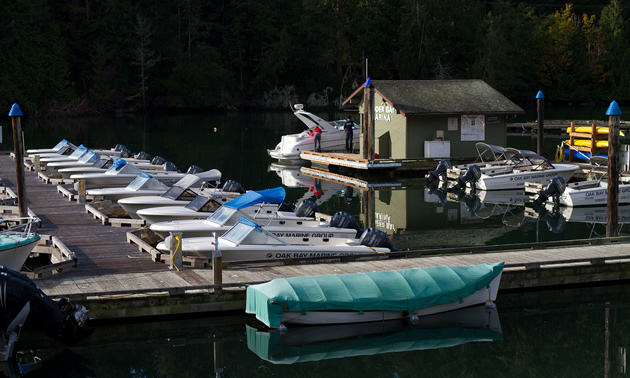 Just west of Victoria, tucked away in the community of Metchosin, is Pedder Bay RV Resort and Marina—an angler's paradise and an oasis for travellers to Vancouver Island.
Oak Bay Marine Group has owned the resort since the late 1960s, and over the years has turned it into a haven for travellers seeking an authentic West Coast experience. The property is surrounded by forest and ocean, and views of marine and wildlife are guaranteed in the sheltered bay, especially on one of the resort's guided sightseeing tours.
"Pedder Bay itself is usually tranquil and calm and perfect to paddle around as you watch for eagles, seals and otters," said Susan Barcham, director of business development for Oak Bay Marine Group. "You will often spot orca whales and dolphins in addition to the all of the seabirds, sea lions and seals."
But the resort's true claim to fame is fishing. With one of history's busiest runs of winter chinook this year, it is almost impossible to leave Pedder Bay empty-handed. Anyone who has never experienced the thrill of reeling in their first catch can count on lessons on everything from preparation and safety to scaling and filleting the catch.
"We are also a full-service marina, offering temporary and permanent moorage and a boat launch ramp," said Barcham. "You can bring your boat and moor it at our dock for the duration of your stay, making it nice and easy to get out on the water, or you can rent one of our boats."
The resort has space for more than 200 vessels. Sixteen-foot Double Eagles with 50 horsepower engines and 16-foot Hourstons with 40 horsepower engines are available to rent for fishing and sightseeing. The resort also outfits visitors with full fishing gear including downriggers, rods, tackle and nets. Forgot the operators' or fishing licence? No problem—pick either up on site.
"People primarily fish for salmon and halibut, and the action has been great this year so far," said Barcham. "We also have single and double kayaks on site for rent, and bicycles. It's a beautiful country setting just minutes from Victoria, and for riding, we are close to the Galloping Goose Trail and Matheson Lake."
Several fishing charters operate out of Pedder Bay, and the resort will organize a private, custom-designed derby for groups of ten or more, complete with prizes and presentations.
For RVers, the resort offers ocean views and fully serviced pull-through sites with 30 and 50 amp power, full cable TV, wi-fi, laundry and private showers. Besides the tackle shop and fuel dock, a fantastic coffeehouse serves up everything from lattes and pastries to hotdogs and popcorn, and the marina offers sundries and gifts.
This part of southern part of Vancouver Island is also home to Race Rocks Ecological Reserve, a great spot for sightseeing and taking in a little more of what the region has to offer.