From sandcastles to stained glass in artistic Parksville and Qualicum Beach
It's an artist's paradise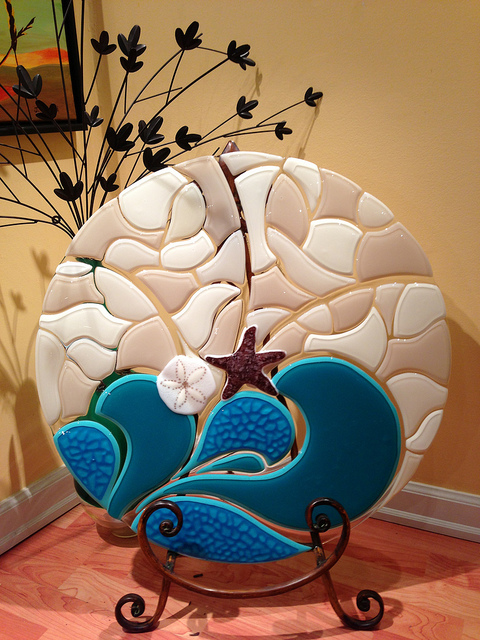 The artists in Parksville, perched along miles and miles of sandy white beaches, are immersed in the serenity and beauty of nature and it shows in their work, said Karena Lawrence, glass artist and owner of Smashin' Glass & Anything Art Co. studio and gallery.
"It's an artist's paradise," she said. "We are a large group that works from images of nature and our lifestyle—it's a common thread through the mediums."
Festivals celebrating art
Oceanside adventures begin with Summer by the Sea on Craig Street in Parksville—an abundant artisan market running Tuesday nights from mid-June to the end of August. Artists from all over Vancouver Island and the Gulf Islands gather to display their work among live entertainment, incredible food and a relaxed and friendly community.
"It's a lively, fun thing to do alone or with the whole family," said Lawrence. "There is definitely something for everyone."
Studio and gallery
Lawrence's studio and gallery is part of the event, featuring a sampling of more than 100 local artists who create using water colours, acrylics, carving mediums, leather, paper and textiles. The gallery also displays artisan works from jewlery and hand-crafter notebooks to fridge magnets and wearables.
"We also teach fused glass classes for adults and children by appointment or drop-in as part of the artisan market," she said. Participants can tailor their projects by ability and time, creating anything from suncatchers to bowl sets and beyond.
Lots of pots
Arrowsmith Potters Guild, located at the old Parksville train station, offers pieces for sale and runs classes for children and adults throughout the year. Students can make their own pieces or decorate pre-made pieces to suit a range of abilities and schedules.
"It's a great place to find local pottery at affordable prices," said Lawrence. "Artists are based there and help run it, so people can go in and talk to them and find whatever they are looking for."
The Old School House in nearby Qualicum Beach is another great place to meet and interact with local artists. Exhibitions rotate year round on the upper level, while the main floor is a working studio for potters, painters, photographers and textile artists.
"This is a great resource for learning about artists in the Oceanside area," said Lawrence. "Anyone looking for specific types of art can go there and connect with the right people."
Artistic collaboration
Visitors can become part of a lasting legacy by painting with Monk—a Parksville artist who invites passersby to participate in collaborative paintings on Rathtrevor Beach. Monk begins a painting while visitors add brush strokes and sign their names as contributors on the back. At the end of the season, prints of the painting go up for sale.
"If you walk out past the condos you can see her set up and you can walk out and join her in creating the painting," said Lawrence. "It's a great opportunity."
And don't forget Parksville's world-famous Sand Sculpting Competition and Exhibition. Watch sculptors from around the globe create a fantasy world on Rathtrevor Beach over three days in July. The exhibition lasts until mid-August.