Parksville and Qualicum Beach: A couple's getaway
Sandy beaches, the country's mildest climate and the lowest annual rainfall on Vancouver Island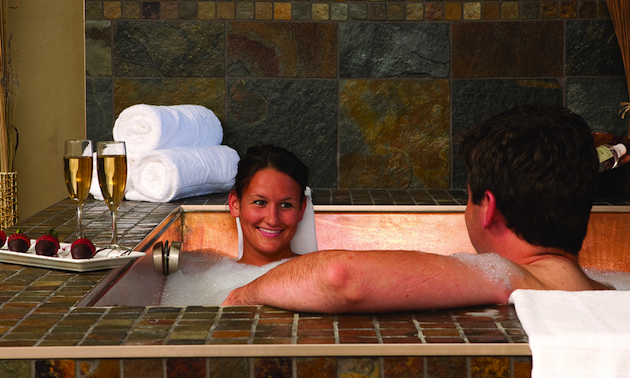 Rathtrevor Beach
Rathtrevor Beach is 2 kilometres of white sandy beach backdropped by majestic old growth trees. Even if you aren't staying at the adjacent 347-acre provincial campground, a trip to the world-famous beach should be top priority on any romantic getaway to the region.
Take in the multi-hued glow of an epic sunset, beachcomb in the protected bay or perfect the art of stand-up paddleboarding in the warm, placid waters. The ocean recedes for about a kilometre at low tide, revealing a soft, sandy bottom perfect for hand-in-hand strolling—you'll feel like you're walking on water.
Birdwatchers enjoy the annual springtime congregation of seabirds looking for the herring spawn. Rathtrevor Beach is also one of the best places on Vancouver Island to view the migrating Brant geese.
Rathtrevor Park also offers 5.5 kilometres of easy walking trails meandering along the beach and weaving through mature forests of Douglas fir, Western red cedar, hemlock, balsam, spruce and a variety of deciduous trees, including arbutus and maple. At the main parking lot, another trail loops around a pretty heritage farm field.
Find trail maps at the information shelters in the park or ask at the campground.
Tigh-na-mara Spa for Two
The Grotto Spa at Tigh-na-mara Resort in Parksville is the ultimate in pampering for two. Couples can enjoy body wraps, massages, scrubs, pedicures, manicures and facials–many of which are delivered using West Coast exclusive ingredients.
Exclusively for couples, the Grotto Spa offers three private couples' day suites that feature handcrafted copper soaker tubs and oversized treatment tables. Indulge in the Ultimate Couples Experience package, which includes a soak in custom blended bath salts, champagne on ice, cheese tray and chocolate-dipped strawberries; two personalized Grotto spa robes to keep, side-by-side treatments, endless tapas dining and personal concierge service throughout the seven-hour day. Choose between body wraps, massages or custom facials side by side.
A shorter but just as sweet experience is the Touch of Romance package—one hour of bliss enjoying sparkling wine and chocolate strawberries, a warm soak and side-by-side massages.
After any treatment couples can sink into the Grotto Mineral Pool—a 2,500-square-foot warm water pool infused with detoxifying and rejuvenating trace elements and minerals. A two-storey waterfall, refreshing glacial plunge cascade and a non-mineralized whirlpool create a complete and unforgettable experience.
Fresh fruit, coffee and teas await before a toasty fire on the upper level Relaxation Lounge following any treatment.
Cathedral Grove
The magic of Cathedral Grove is evident from the first steps in—sunbeams poke between branches of towering old growth Douglas firs along a beautiful, meandering path. The forest is one of a few remaining untouched temperate rainforests in the Pacific Northwest where only nature has impacted its look and ecosystem. The majestic trees are in their natural state, some of them 800 years old and the largest nine metres in circumference.
It is easy to feel connected with nature and each other in the heavy quiet of the rainforest. If you stand perfectly still near one of the ravines or next to a grove of giant Douglas firs, you can truly understand what it was like to be in the wilderness 500 years ago. Take your time in Cathedral Grove—visit one of several lookouts, or walk hand-in-hand under the canopy of ecological history.
Wander trails into the forest that branch off from either side of Highway 4 and begin explore the interpretive signs, which explain the irreplaceable ecosystem in Cathedral Grove. Find out how a wind storm in 1997 altered the park forever and how the fallen trees nurture the next generation of plants.
Tiger Lily Farm horseback trail riding
Recreate a romantic fairytale with a trail ride for two among enchanting mature Douglas fir and towering cedar trees at Tiger Lily Farm, just south of Parksville. Imagine the soft creak of the saddle, the gentle sway of the horse and soft sounds of nature all around as you explore the beauty of some of the region's loveliest forest trails.
If you aren't sure about horseback riding, test it out with a half-hour trail ride through easy forest trails with the support of an experienced, confident guide. Take a one-hour meander through a grove of poplar trees, taking in the serenity and possibly viewing some wildlife along the way.
For a longer adventure, the two-hour To the Top of the T ride includes two small water crossings, forested trails and a few old logging roads as you wind your way to a popular trail locally known as The T, and back down through the poplar grove. The terrain changes and the scenery is remarkable. The Old Loop—a three-hour adventure—covers a variety of trails from narrow wooded forest trails to old logging roads and some water crossings. Discover beautiful old growth forests and bright, newly planted forests along this incredible ride. Trail rides and guides are available year round, but reservations are required between November and February.
Free Spirit Spheres
Take to the trees for an unbelievable, unusual and unparalleled getaway experience. Free Spirit Spheres are handcrafted spherical treehouses suspended like pendants from a web of rope in the rainforest near Qualicum Beach.
These comfortable, restful, gently swaying retreats offer all the luxuries of on-the-ground accommodations, but with a creative, whimsical view of the world below from the forest canopy.
They range in size from Eve—a nine foot in diameter sphere with two- and four-foot windows and one single bed—to Eryn—a 10.5-foot diameter unit with a double bed on the main level and a single loft bed. Melody is the newest addition—a 10.5-foot space accessible by a short bridge and a few spiralling stairs. Her black walnut interior, generous windows and skylight and multiple seating areas make Melody the ultimate in creative comfort getaways.
Every unit is equipped with electricity and access to hot shower and bathrooms. The spheres are for adults only, ensuring a quiet, romantic, uninterrupted experience. The spheres are located on private land just north of Parksville near Qualicum Bay.