Paradise found
Parksville and Nanaimo are both fantastic areas for a recreational retreat
by Kali Love —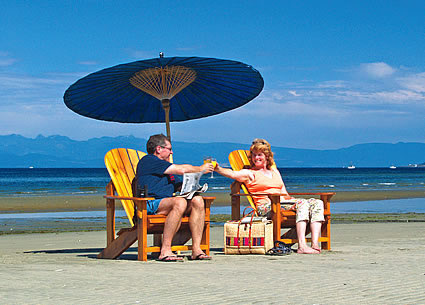 Parksville and Nanaimo have several things in common. A short, 30-minute drive from each other, both communities border the ocean inlet of Vancouver Island. Nanaimo was named the Cultural Capital of Canada in 2008 and Parksville and Qualicum Beach have been referred to as Canada's Riviera by the Globe and Mail newspaper. Both of these communities have a wide array of fun recreational activities for people to pursue.
Visitors can go to Newcastle Island Marine Provincial Park, situated in Nanaimo Harbour. The park possesses a rich natural and cultural history—there is evidence of two Coast Salish First Nation villages on the island. The shoreline has steep sandstone cliffs and gravel beaches with caverns along the shore. A multitude of trail systems in the park allow visitors to enjoy a leisurely stroll or to take a more strenuous hike through Newcastle Island park.
Amanda Evoy, the manager of marketing and communications for Tourism Nanaimo, said Nanaimo is a great base for people visiting the area. Evoy said that Nanaimo has the biggest mall on Vancouver Island, there is a fantastic art district and there are plenty of fabulous parks.
"We have several different beautiful parks and trails scattered throughout the city by beaches, lakes and mountains," said Evoy.
See the seven wonders
In 2007, Parksville and Qualicum Beach residents and visitors were asked to vote on what they felt best represented the area. After the vote, seven spectacular sites were singled out in Parksville and Qualicum Beach, and subsequently named The Seven Wonders of Oceanside.
Blain Sepos, the executive director of the Oceanside Tourism Association, identified the seven wonders as: Cathedral Grove, Horne Lake Coves, Milner Gardens and Woodland, Rathtrevor Beach Park, the Aquarium at the Landing Restaurant, the Boot at Paradise Adventure Golf and the Old School House Arts Cathedral. Sepos, who said all of these wonders are worth seeing, spoke fondly of Cathedral Grove.
"Cathedral Grove has 800-year-old giant trees," said Sepos. "You literally cannot see the top of them when you are standing on the forest floor and it probably would take about 20 people with their arms stretched out to get themselves around the tree."
Sepos said that another area to check out if visitors are looking for a pleasant walk is the Milner Gardens and Woodland. These gardens are famous for their rhododendrons, which are rumoured to reach as high as some trees. Canadian Geographic magazine named the Milner Gardens and Woodland as one of the 10 best public gardens in Canada in 2008.
A royal connection
"The gardens have up to 400 varieties of rhododendrons," said Sepos. "There is also a historical element to the gardens. The family that owned it (the Veronica Milner family) was related to Princess Diana, so Prince Charles and Diana came here (during a 1986 visit to Canada)." Queen Elizabeth and Prince Philip also stayed at the estate in 1987.
Sepos said that the Seven Wonders of Oceanside have given people a good avenue to explore the area. Sepos said that Parksville was and still is known for its beaches—and justifiably so. Rathtrevor Beach Park is the most popular provincial park in B.C., with sandy beaches, beautiful hiking trails and old-growth trees.
"This beach is spectacular," said Sepos. "At low tide it goes out for more than a kilometre…People can beachcomb (and find) sand stars and sea stars. Kids love the wading pools too because the water gets really warm from the sun beating down on the sand all day."