Kick back and relax
These oceanfront communities are ideal for celebrating National Relaxation Day
by the Oceanside Tourism Association —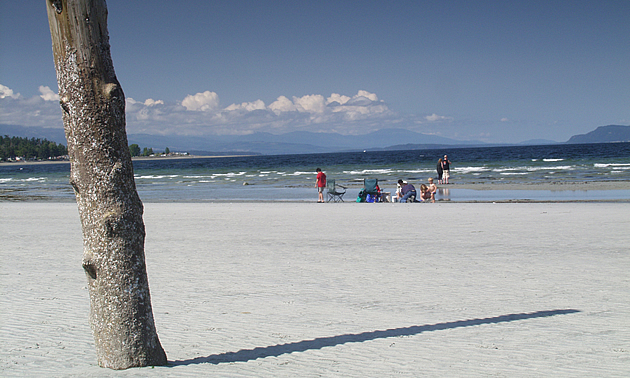 There was a holiday on August 15th? While not a Canadian holiday staple, Parksville-Qualicum Beach has lifted National Relaxation Day from their U.S. neighbours and planted it firmly on the shores of their oceanfront communities.
"Call this a benefit of NAFTA, maybe think of it like borrowing the lawnmower from your neighbour, but we
love the idea of National Relaxation Day, and there's no better place to bring it to, or celebrate it," said Parksville Mayor Chris Burger, while dipping his toes in the sand and placid warm waters of his temporary "office" on the shores of Parksville Beach. "When you think of kicking back and really relaxing—where and what do you think of? Commuting all day on scorching hot asphalt, or do you picture beaches, cool drinks and the smell of sunscreen in the air? We've got the latter in abundance—so, we're a natural fit."
Life is filled with daily stressors, all bound to give most people a standing date with a headache, tight shoulders and high blood pressure. And the buzz-kill continues, with many suffering lack of sleep because of their battle with stress.
"When you go to your doctor they don't tell you that you need to work more, sleep less, and above all, make sure stress is a big part of your daily routine," said Qualicum Beach Mayor Teunis Westbroek.
Westbroek added that while it seems out of character to annex National Relaxation Day from their friends to the south, when you look at what the Parksville-Qualicum Beach area has to offer, "you'll know we take relaxation seriously here, so there's no question where Canada's relaxation destination rightfully belongs."
Burger said being on *the top island in the continental U.S. and Canada, with kilometres of the country's best sandy beaches, 18 provincial and regional parks, six golf courses, incredible spas, casual farmer's markets and festivals, Parksville-Qualicum Beach is all about "a chilled out lifestyle," so it's only fitting that they become "the fulcrum of a relaxation resurgence."
But for those who truly want to test their inner relaxer, the communities have established their Top 5 Ways to Chill as a way of "giving back" after lifting National Relaxation Day. The mayors have also added a challenge: to see if one can try out any of these practices on National Relaxation Day without feeling totally relaxed.
Top 5 Ways to Chill
1) Just sit...and that's it. Point yourself towards a multi-coloured sunset over the mountains or ocean, breathe deeply, watch and relax. It's that simple.
2) The ocean's your bubble bath: Who needs suds indoors? Splash around in the big bathtub
of Parksville-Qualicum Beach with some of the warmest water this side of Mexico.
3) Beach yoga with a twist: Follow these simple steps. Lift drink of choice to mouth; stretch out
toes in sand; lift arms to sun; turn head to ask server for a refill. Repeat. Parksville and
Qualicum Beach never felt so good.
4) Too wired? There's an app for that: Under the giant Douglas firs of Cathedral Grove or in Qualicum Beach's Heritage Forest, download an app like Pzizz Energizer and wake up feeling energized after a quick, blissful power nap.
5) Bust a move: In the shadow of Mount Arrowsmith (no, not named after the rock band) grab your iPod, put on your favourite beach t-shirt (the one your spouse thought he or she threw out) and let loose!
For more information on National Relaxation Day in Parksville-Qualicum Beach, visit www.visitparksvillequalicumbeach.com
* Vancouver Island was ranked No. 1 on the Travel + Leisure 2012 World's Best Awards list of Top Islands in the Continental U.S. and Canada.