Top things to see and do in Parksville
The Top 5 must-see locations in and around Parksville, B.C.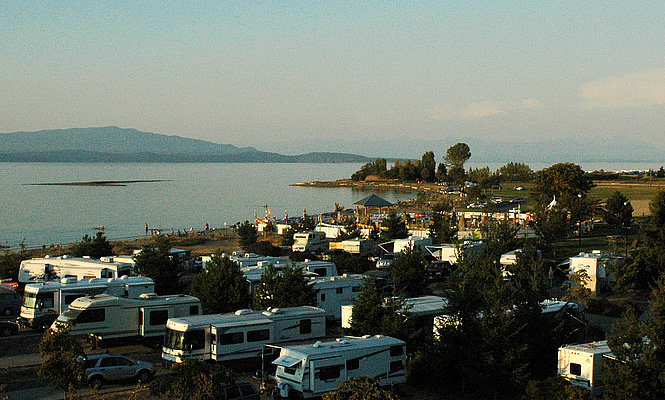 Tucked away on the east coast of Vancouver Island, the city of Parksville has no shortage of fine attractions to keep visitors entertained and engaged. Here are the Top 5 places you can't afford to miss when travelling to this destination:
1. Parksville Beach
Known as Parksville's claim to fame, this delightful beach offers 19 kilometres of incredible sand and ocean water to swim in, giving it a Mediterranean feel that lends itself to the nickname, "Canada's Riviera."
"Our water temperatures can go as high as 20 degrees Celsius (about 70 degrees Fahrenheit) in the shallows," said Patti Lee, visitor centre manager. "The flat beaches also make the water safe for everyone in the family, even at high tide. There are many tide pools along our beaches with some great sights: starfish, crabs and sand dollars are just some of what you will see."
Head down in July and August for the Parksville Beach Festival, Quality Foods Fireworks Display and Kids Fest, and Parksville Kite Festival.
2. The Old Country Market in Coombs
The Old Country Market had humble beginnings 35 years ago, when it started off as a seasonal fruit stand—now it offers a wide-ranging shopping destination with specialty stores, fresh local goods and international treasures. Don't forget to visit the resident goats that have a home on the market roof, much to the delight of visitors and locals alike.
3. Milner Gardens & Woodland
This seaside garden is located near Parksville in Qualicum Beach and supported by the Milner Gardens & Woodland Society and Vancouver Island University. Oceanside views and woodland gardens turn an ordinary stroll into an unforgettable experience. Try the English tea service and see locations that have been visited by royal guests such as Queen Elizabeth, Prince Phillip, Prince Charles and the late Diana, Princess of Wales.
4. North Island Wildlife Recovery Centre
Located in the nearby community of Errington, this valuable facility is run by the North Island Wildlife Recovery Association. The focus is on rehabilitating Vancouver Island wildlife and teaching the public through educational programs, guided and self-guided public tours, and other intriguing programs. Come to the centre and see all types of local wildlife, such as hawks, owls, falcons and black bears.
5. Morningstar Farm
Home to Little Qualicum Cheeseworks and MooBerry Winery, Morningstar Farm is another favourite local attraction. The farm is situated at the base of Mount Arrowsmith, and has tons of activities to enjoy. Bring the kids for family-friendly tours, festivals and events; or take a group of adult food and wine connoisseurs to sample the locally made, high-quality products. A gift shop is also on site, where visitors can purchase samples of the farm's products or even a souvenir to remember the experience by.