You will never get bored
This fabulous Palm Springs resort has everything a snowbirder could want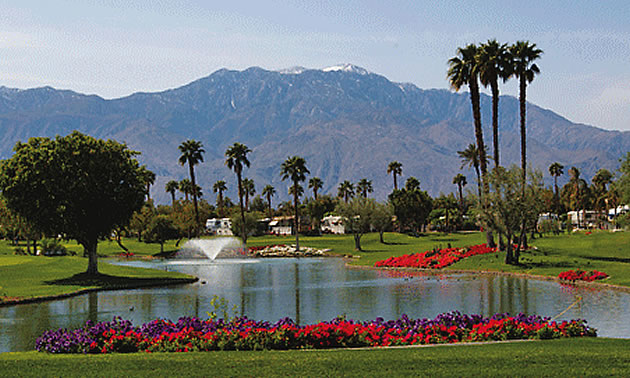 Outdoor Resort Palm Springs is a wonderful area for snowbirds to make their winter home. This attractive 137-acre country club-style resort is designed with the needs of adult RVers in mind, and you'll be as amazed by the views as you are by the lifestyle options that are available here.
There are activities galore and 1,213 individually owned fee simple lots with approximately 1,950 square feet of space each and options for both rental and resale. There is ample room to park your RV, set up some tables and chairs or a barbecue and relax with a few of your neighbours over a glass of wine. The atmosphere at the resort is warmly hospitable, and there is a sense of camaraderie among RVers who visit or reside there.
Of course, snowbirds and other RVers are known for their love of the outdoors and their penchant for an active lifestyle. There are numerous places for walking, biking and golfing here, and RVers will also be pleased to hear there are seven lakes in the vicinity, just waiting to be enjoyed.
In terms of amenities, Outdoor Resort goes above and beyond, with gated and patrolled 24-hour security, eight saltwater swimming pools and spas, a fitness centre, two clubhouses, an on-site hair salon, lighted tennis courts, an espresso café and RV parts store, as well as other entertainment and convenience options—and this is just a small glimpse of what the resort has on offer. The daily activity calendar will keep you well informed.
Outdoor Resort has been recognized with the 2011 Award of Excellence for outstanding achievement and commitment to excellence, as well as a 10-10-10 rating from Trailer Life magazine. Woodall's campground directory has given them a five-star rating as well.
For more information about this luxurious resort, contact Phil Tadlock, general manager at 760-328-3834 or email.