Palm Springs, California is an epicentre for creativity
The heart of Coachella Valley offers musical escapades, visionary design and art of epic proportions just steps off of the beaten path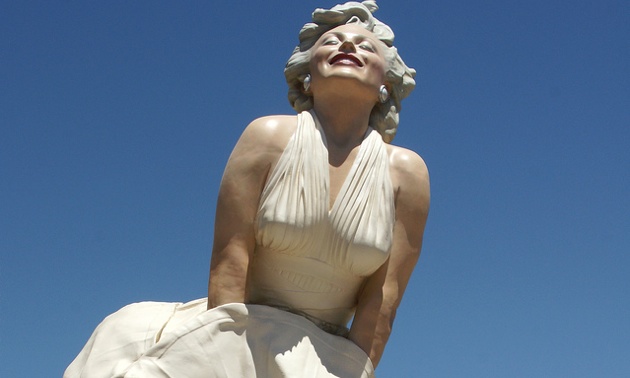 Palm Springs, California, might be a golfer's paradise, but for travellers with niche interests and a taste for the unusual, it's a haven. The city is an epicentre for creativity and offers unique opportunities to experience exciting entertainment and innovative technology.
The Fabulous Follies
Take in a Broadway-style music, dance and comedy act like no other—the Fabulous Follies is kicking off its final season in Palm Springs in November. The outrageously talented lineup of 55- to 85-year-old performers promises "the most fun you can have in Palm Springs" with Long-Legged Lovelies and Follies Gentlemen defying old-age stereotypes with a lively act set to '40s, '50s and '60s music and classic satire.
It's been 23 years since critics first shunned the idea that anyone would "pay to see old ladies' legs," says the Follies' public relations material, but three million visitors later, the Follies have only perfected their art.
This final season, aptly titled the Last Hurrah, promises a "greatest hits" compilation of the best in dance, song and variety entertainment. The show runs November 1 to mid-May 2014 at the historic Plaza Theatre in Palm Springs.
Windmill tour
Hillary Angel, public relations specialist for Tourism Palm Springs, recommends a tour of America's energy future along Interstate 10, where thousands of wind turbines appear to rise silently out of the desert.
Palm Springs' location in the Coachella Valley makes it an ideal place for wind-generation projects thanks to the unique geography, weather tendencies and wind patterns through the valley pass.
Windmill tours take visitors to key turbine locations for an in-depth look at the different types of turbines, how they work and just how ancient this form of energy generation is. Visit the largest of the turbines, which stands 150 feet tall and hoists blades half the length of a football field. The San Gorgonio Wind Park offers a rare look at a wind-generation plant, with 4,000 turbines that generate enough electricity to power Palm Springs and the Coachella Valley.
Birthplace of desert modernism
Design lovers can revel in America's largest concentration of mid-century modern architecture in the dramatic desert environment of Palm Springs. Since the 1920s, progressive architects have embraced the unique aesthetic backdrop, using glass, clean lines and integrated indoor and outdoor spaces to develop the desert modernism design style.
Private residences, hotels and religious buildings in Palm Springs take on the sleek, modern design characterized by the use of interesting natural and manufactured materials and a combination of contemporary and post-war construction methods and technologies.
Take a tour of the area's renowned structures and discover the inspiration behind the designers' visions, or take home a modernist souvenir from one of the boutique shops on Palm Canyon Drive. Visit during the annual Modernism Week for 10 days of bus tours, films, lectures and soirees dedicated to the art of modernism. The next event occurs between February 13 and 23, 2014.