Explore the incredible diversity of Palm Springs' food culture
Palm Springs, California, has a whole lot to offer when it comes to adventures of the culinary sort
by Karen Kornelsen —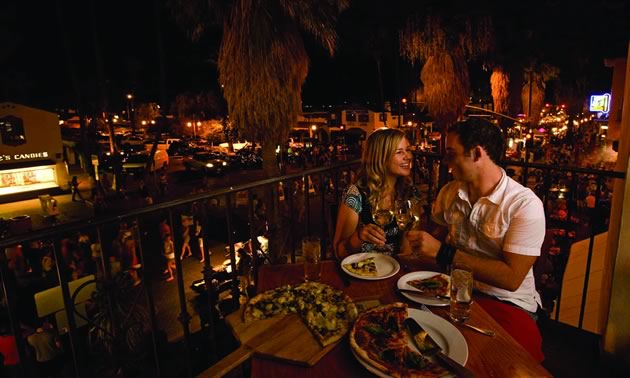 Palm Springs is a haven for any foodie who has the opportunity to travel to this great area. Surrounded by beautiful desert terrain, the city offers a wide array of nightclubs, restaurants and cultural options, as well as outdoor adventure and more. When it comes to indulging in the region's food culture, there is never a lack of flavours to explore—and between all the tours and mouth-watering festivals, any visitor will likely go home with his or her tummy full and palate satisfied.
Hillary Angel at the Palm Springs Bureau of Tourism couldn't stress enough how special the food culture is in Palm Springs.
"Our downtown restaurants are chef-owned or family-owned," she said. "Many of them use local ingredients and incorporate authentic family recipes. You can dine out on the patio in the winter when the rest of the country is cold and we are still sunny and warm."
Desert Tasty Tours
Desert Tasty Tours offers a rewarding tour of culinary delights through its Palm Canyon Food Tour, which is available Wednesday to Saturday from October to May.
"Palm Springs is very easy to get around and has a very pedestrian-friendly downtown," said Angel. "Desert Tasty Tours offers visitors a great mix of restaurants, from casual cafés to elegant eateries."
You can expect to visit six downtown Palm Springs tasting stops along your three-hour narrated walking tour. You will enjoy a smorgasbord of samples—enough for lunch. You'll learn about each location, what makes each unique and how they fit into the culinary tapestry and vibe of downtown Palm Springs.
The deliciousness of dates
Angel said that as the nation's date capital, the Greater Palm Springs area is noted for producing more than 80 per cent of the country's dates.
"Tour a date farm and taste several varieties of this luscious fruit, which has been a desert staple for nearly 100 years," she said. "As a classic film treat, travel to Indio and take in Shields Date Garden's 15-minute (film), Romance and Sex Life of the Date (G-rated, of course!), and try some tasty date treats."
The Coachella Valley produces dates on about 4,000 acres and the 10-year production average is 29 million pounds.
"When you come to Palm Springs, you cannot leave without trying a date shake," added Angel.
Fairs and markets
The Palm Springs VillageFest, also known as the Palm Springs Street Fair, is a local favourite. It is a street fair held every Thursday night, year round, in downtown Palm Springs that features local arts, crafts, food and entertainment. At VillageFest, you will see a diverse array of artists, artisans and entertainers as well as purveyors of fresh fruits and veggies, flowers, jewelry, snacks and sweets.
Another great event with food and more is the Palm Springs Open Air Market, which starts up in November and happens every Saturday from 9 a.m. to 2:30 p.m. Vendors display merchandise including apparel and accessories, art, jewelry, furnishings and home fixtures, textiles, flowers, health and wellness products, foods and more. There is also live entertainment at the market.
Another market, the Certified Farmers Market, is sponsored by the Palm Springs Cultural Center on Saturdays from 8 a.m. to 12:30 p.m., adjacent to the Camelot Theatres at 2300 E. Baristo Road at Farrell.
World's Championship Chili Cookoff
This year's World's Championship Chili Cookoff take places from October 11 to 14, 2013, at the Spa Resort Casino. The event is put on by the International Chili Society every year.