Palm Springs offers relaxation, excitement and romance
RVing couples can indulge their romantic desires—with a side-by-side massage, a hot air balloon ride or a fun round of golf
by Karen Kornelsen —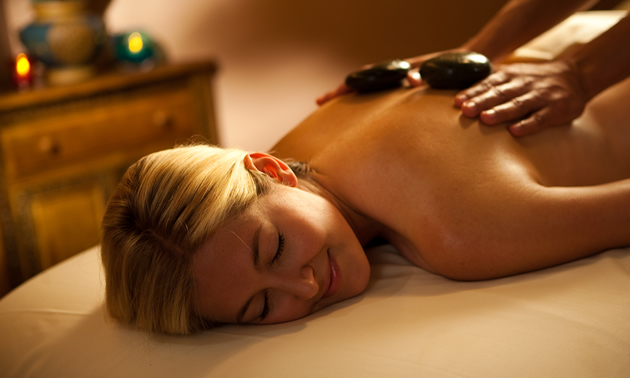 Palm Springs has been described as the ultimate desert playground for outdoor adventure, arts and culture, and entertainment of all sorts. Couples looking to get away from it all can find everything they need in the beautiful Palm Springs area.
The Tahquitz Canyon
As early as the 1890s, Palm Springs and the surrounding area have been described as a recreation oasis. Tahquitz Canyon and three southern canyons are listed in the National Register of Historic Places, and couples looking for an opportunity to experience the outdoors together will not be disappointed by a trip to Tahquitz Canyon.
The Tahquitz Canyon Trail is a two-mile loop that leads to Tahquitz Falls and back. From the visitor centre to the falls, you will be gaining 350 feet in elevation. The trail is steep and rocky with many rock steps to climb; you must have good balance and be able to climb up and down rock steps that may be as high as 12 to 15 inches.
Couples can also take part in a ranger-led interpretive hike that is two miles round trip and 2½ hours in duration.
Fantasy Balloon Flights
For couples who want to experience Palm Springs from the air, Fantasy Balloon Flights can provide an unforgettable balloon ride experience. Guests enjoy a bird's-eye view of majestic mountains surrounding a patchwork of cities, farms, resorts and the natural desert. The Palm Springs area is a wonderful contrast between the natural desert landscape with wildflowers and sagebrush and the beauty of lush country clubs and 100-plus golf resorts.
Golf
Palm Springs is world famous for being one of the most popular golf vacation destinations in the United States. In fact, the Palm Springs and Palm Desert resort area is often referred to as the Golf Capital of the World—more than 125 golf courses, fabulous weather and natural beauty combine to strengthen the area's popularity as a top golf and vacation spot. Couples should get prepared to swing those clubs while enjoying the amazing scenery.
Spa Resort Casino in downtown Palm Springs
A trip to Spa Resort Casino in downtown Palm Springs is the perfect way for travelling couples to relax and unwind. The boutique casino and resort has a very modern hotel with 229 rooms and an award-winning casino with over 900 slots. The resort also has four restaurants, including a steakhouse. But the real draw is the spa.
Therese Everett-Kerley, director of communication for Spa Resort Casino, said the spa is perfect for anyone wanting to get away and relax.
"The resort here is an ideal location for a vacation," said Everett-Kerley. "We are just steps away from all the boutiques and shops in downtown Palm Springs. We have ample parking for RVs, amazing restaurants, a live music lounge and so much more. The spa is unique in that the hot mineral springs come right into the spa. Since the 1800s, people would come out to the desert to enjoy the hot springs for its fabled curing and healing properties."
The spa does have opportunities for couples to enjoy a massage treatment together with the Massage for Two package.