A must-have experience
Visiting Outlook is sure to be a memorable occasion
by Outlook Tourism —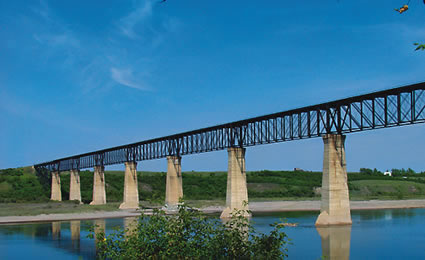 The town of Outlook's location and unique attractions make it an essential destination for visitors exploring the Lake Diefenbaker region. Located just an hour's drive or so from both the city of Saskatoon and Lake Diefenbaker, Outlook lies adjacent to the beautiful South Saskatchewan River. Visitors can experience the river in a variety of ways but folks looking for the most spectacular views and photo opportunities will want to walk across the SkyTrail.
Spanning 3,000 feet and rising more than 150 feet above the river valley, the SkyTrail is Canada's longest pedestrian bridge and is a key link in the Trans Canada Trail. Those that enjoy a good hike will be interested to know that in 2011 new trails will be developed to link the SkyTrail with the recently refurbished orange pedestrian bridge creating a spectacular loop around both sides of the river.
If you bring your binoculars you can watch some of the largest bird migrations in Saskatchewan. Head into town and you will discover that Outlook has a full range of businesses, services and attractions. Visit the Outlook and District Heritage Museum and view more than 2,500 unique artifacts that will give you a snapshot of the history of the region. You can find souvenirs or browse unique shops featuring local goods, crafts and supplies at any of the 150-plus retail and service businesses. Restaurants, motels and even the Reel Theatre, which plays new movie releases weekly, are available to accommodate the needs and whims of any traveller.
For more information on Outlook please visit the town's website.