Osoyoos fruit stands and markets–and where to find them
Make your next trip to Osoyoos a fresh and fruity one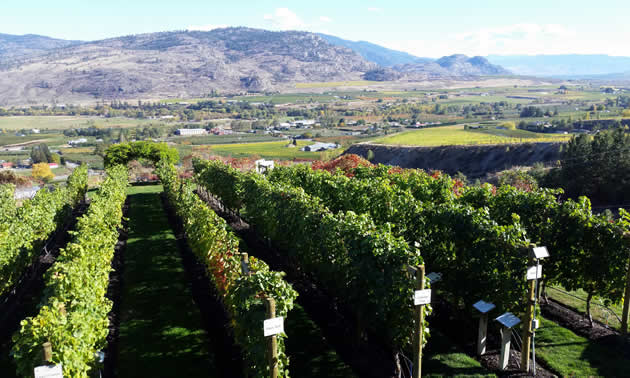 Osoyoos is in the heart of the Okanagan Valley on the divide between desert and lush farmland. Due to the variation in landscapes and unique climate, this area has more to offer than most. The pleasures of using food grown and raised sustainably is a virtue many restaurants and locals indulge in daily, and visitors will be able to do the same no matter the time of year.
The longer harvesting and growing seasons of the area's bountiful orchards and fields create a plethora of chances for visitors and locals to snag some ripe fruits and vegetables (in addition to tasting some fantastic wines).
Meet the growers
Osoyoos Fruit Market is a one-stop-shop for all of your fruit and veggie needs. It carries cherries, apricots, peaches, plums, nectarines, apples, grapes and pears, as well as onions, peppers, tomatoes, garlic, watermelons, cantaloupes, beans and peas.
Osoyoos Market on Main is the perfect opportunity to buy fresh produce while also getting to know the makers and farmers themselves. The market runs from mid-May until late September, 8 a.m. to 1 p.m. on Saturdays. Every week at Town Hall on Main Street, the market hosts live music, fresh Osoyoos produce, handmade crafts and unique art and gifts.
Van Kalkeren Orchards & Fruit Stand offers great views of Osoyoos lake and even better homemade pies. The fruit stand is off the highway and caters to lovers of all kinds of fruit. One can place an order in advance for the Van Kalkeren family's canned fruit and then pick the order up upon arrival.
Casa Del Mell Orchards, a family-operated, soft-fruit orchard, produces a variety of different fruits available during its individual growing seasons. During cherry season (June), visitors can U-pick their own cherries or buy them pre-picked on location. The orchard also has a popular fruit stand on Highway 97.
Golden Mile Fruit Stand is on the same highway, between Osoyoos and Oliver. Cherries, apricots, peaches and other Okanagan fruit and vegetables, locally made fruit syrups, honey, jams, jellies and preserves are all available in late June. The stand is usually open from 8 a.m. to 8 p.m. daily during the summer months.
Several other popular stands are the Brar Fruit Stand & Orchards, Fernandes Fruit Market, Peach Hill Farm and Fruit Market, and Hillside Orchards. These stands have orchards you can visit as well, but their freshly picked produce makes it easy to "get the goods and get out" without compromising on flavour or quality (the perfect alternative to orchard picking for people passing through or who have little ones).
While the area is best known for its liquid (and alcoholic) grapes, a great alternative to those are apples. Faustino Estate Cidery brings a European flair to the Osoyoos area with its varieties of cider. The Relvas had to make a change when some particularly severe hail storms ravaged their apple orchards. Because the hail destroyed the skins of the apples but not the great Osoyoos flavour, the husband-and-wife duo set to work producing delicious organic cider. They make three kinds: Semi-sweet Apple, Dry Apple and Apple Pear.
Make sure to troubleshoot
If you've got your heart set on a particular kind of fruit, it is a good idea to call the orchard you're wanting to visit two weeks before you go. The fruit you're wanting might not be ready to go due to different growing and planting times and weather across the area. If it isn't, at least you'll have two weeks to make a contingency plan. Whatever you decide to get, Osoyoos apples, cherries, apricots, plums, peaches and pears are sure to delight.
For more information about the Osoyoos area and its unique and cultivated flavours, visit the city's tourism website.