Head to the "Bottomland" for top-shelf wines
The first Aboriginal-owned winery in North America resides in Osoyoos, B.C.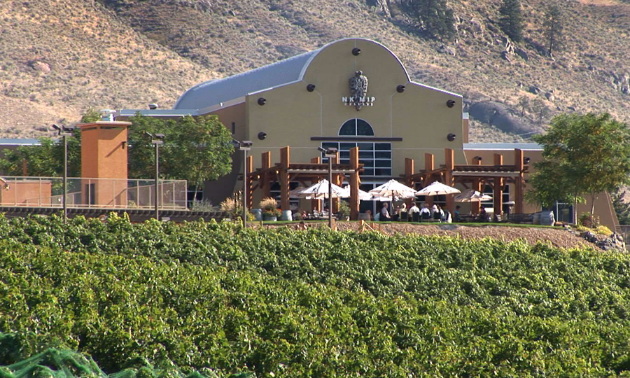 Nk'Mip Cellars Winery is the first Aboriginal-owned winery in North America. The Osoyoos Indian Band's proud legacy continues to inspire their culture in everything they do. Sample the international award-winning wines they produce as well as the spirit and history that inspire them at Nk'Mip Cellars Winery.
The word Nk'Mip translates to "Bottomland" in English, an appropriate name as the area is located at the southern end of the Osoyoos reservation. The Nk'Mip Cellars Winery overlooks Osoyoos and includes an expansive patio with spectacular views of Osoyoos Lake and surrounding hills. The eatery offers locally sourced, contemporary cuisine from the on-site restaurant in a picturesque location. Even if your appetite isn't peaked enough to have a full meal, you can enjoy a glass of award-winning wine and a light snack while taking in the view of the sun setting over Osoyoos Lake. The Sunset Wine Lounge patio is a nice spot to share a bottle of wine and a cheese plate with friends.
In Osoyoos, the unique climate of long hot summer days, cool nights, mild winters and little rainfall has created one of the world's superior grape-growing regions. The winery boasts exclusive wines such as the premium reserve of Qwam Qwmt (which translates to "achieving excellence"). This estate wine is sourced primarily from the finest grapes grown on the 40-year-old Inkameep Vineyards. Another popular selection is Mer'r'iym ("marriage"). The beverage is said to be the perfect union of Merlot, Cabernet Sauvignon, Cabernet Franc and Malbec—a joyful celebration of balance, texture and length.
Between sampling drinks and munching snacks, browse Nk'Mip Cellars Winery's selection of local Aboriginal artisan merchandise and wine- and food-related products. Don't miss out on the historic, memorable experience of visiting the Mk'Mip Cellars Winery on your way through wine country.