Winchester Bay is a scenic gem of the Oregon Coast
by Karen Kornelsen —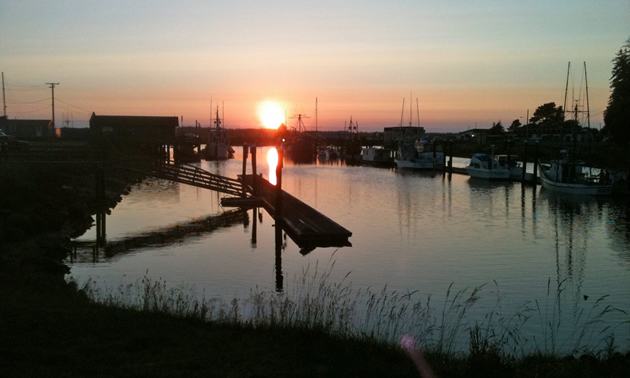 Winchester Bay is located in the heart of the Oregon Dunes National Recreation Area and is a vacationer's paradise. It is home to miles of undisturbed beaches, abundant wildlife, lake and ocean fishing, hiking trails, plenty of campgrounds, and is a terrific place for the off-road riding fun for ATVers.
For visitors who are looking for something different and exciting to do, there is a lot to choose from. But to narrow it down, the Dean Creek Elk Viewing Area and the Umpqua River Lighthouse are both must-see places.
Dean Creek Elk Viewing Area
The Dean Creek Elk Viewing Area is a mosaic of pastures, woodlands and wetlands providing a variety of wildlife viewing experiences. A herd of 60 to 100 Roosevelt elk are year-round residents, and visitors can also view numerous birds in the area, including waterfowl. Each of the two viewing areas provides parking, an interpretive centre, viewing scopes and restrooms. The area is situated along the scenic Umpqua River.
From Reedsport, Oregon, and U.S. Highway 101, travel about three miles east on Highway 38 until you see the Dean Creek Elk Viewing Area signs.
Umpqua River Lighthouse
At the entrance to Winchester Bay and at the mouth of the Umpqua River stands a sentinel of the ocean casting its red and white beams of light some 20 miles out to sea. The 65-foot Umpqua River Lighthouse is situated on a hill 100 feet above sea level and is surrounded by U.S. Coast Guard buildings and a maritime museum.
An earlier light structure, the first on the Oregon Coast, was built in 1857 on the south side of the river. It fell into the swollen water seven years later during a storm, after water eroded away the sand.
The current lighthouse was started in 1890 and was illuminated in 1894. It is the sister lighthouse to the one at Heceta Head, just a few miles north of Florence, Oregon. Both structures were built from the same plans.
The Umpqua light shines through a lens made of 616 glass prisms handcrafted in France and weighing two tons. It is a beautiful display of fine craftsmanship and produces a spectacular coloured light show at dusk. The light shines 24 hours a day, but visit after dark or before sunrise for the best show.
The lighthouse is located six miles south of Reedsport above the entrance to Winchester Bay. It is open for eight-person tours from May 1 to October 30. Hours are 10 a.m. to 4 p.m. daily and winter tours are available by pre-arrangement by calling 541-271-4631.