Round-up of culture at Omak, Washington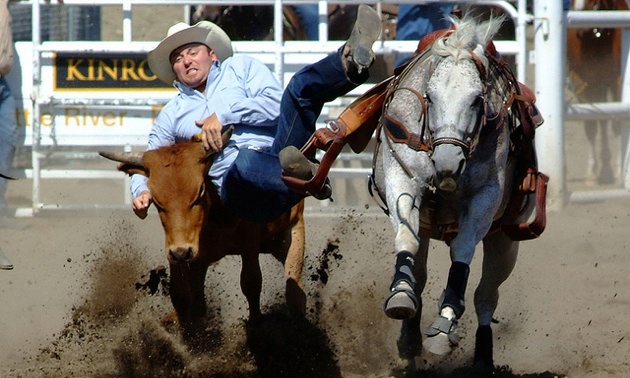 For an 80-year round-up of culture in the Okanagan Highlands, make your way to the Omak Stampede this summer in Omak, Washington. Now in its 80th year, the four-day rodeo and entertainment event is the oldest-running event in the area.
According to Sarah Grooms of the Omak Stampede organization, rodeo is something tied into the roots of the community.
"This is an old ranching community, that's what it was built on," said Grooms. "The community wouldn't have come to be here without the ranchers. That's where we came from."
The stampede kicks off with a Thursday morning ride in to the arena where four Professional Rodeo Cowboys Association rodeos take place every day of the event, complete with a rodeo clown and bullfighter. On Sunday, the Western entertainment at the arena comes to a climax with the stampede's World Famous Suicide Race.
Suicide race
According to Grooms, the suicide race is one thing that sets the Omak stampede apart from others.
"Horses run off the top of a hill down across a river and into the arena," she said. "They're called the suicide races because people have to be crazy to run it."
Grooms said the race has been a highlight of the stampede for 78 of its 80 years—a part of the Colville tribe tradition.
"We are in the Colville Indian Reservation here," she said. "Every day of the stampede there is a Native American encampment with stick games and a powwow with full regalia. It's really beautiful what they do.
"We've had the encampment for 79 years and the suicide race, which is part of the Colville tribe tradition, for 78 years. It doesn't get more steeped in culture than that."
Changing with the times
The event has adjusted and grown with everything that has changed in the local culture over the last 80 years, Grooms said.
"There have been a lot of changes," she said. "It used to be just about the rodeo, and now it's more of an entertainment event. We now have a carnival and two art shows, one with Western art and one with more contemporary art.
"We also have vendors and a food court. We have anything from Aztec-type clothing to kettle corn to Italian sausages. This year we're trying to get some helicopter rides in. I think that there's something for everyone here."
The Omak Stampede takes place on the second weekend in August, this summer from August 8 to 11.