Enjoy the community at RockWall Cellars
A fun, family-owned vineyard and winery in Omak, Washington
by Kimberly Schoenberger —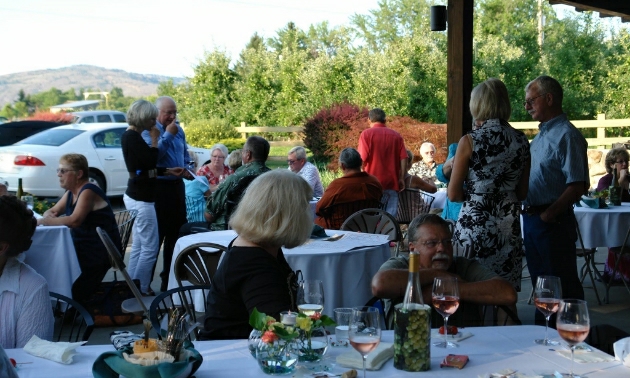 The town of Omak is located in the heart of Washington's central Okanogan, and is known for its nearly year-round sunshine. While the town may be small, it boasts a booming summer schedule, with events ranging from rodeo stampedes to salmon derbies and laser light shows.
If you're in the mood for more relaxing activities, though, don't miss winding down on Wine Down Wednesdays at RockWall Cellars, a family-owned vineyard and winery in Omak. Guests at the weekly event can enjoy wine, snacks and live music. Occasionally, the owners will even fire up the grill so that customers can choose to cook burgers or steaks to go alongside the evening's entertainment. Though the entertainment and wine is certainly enjoyed by all, the community feel is really what keeps customers coming out week after week.
RockWall is owned by a pair of siblings and their spouses in Omak, and the loving family feel truly transfers to their work. Locals are treated like family and newcomers are welcomed with open arms, making it a great stop on any traveller's tour. The winery offers red, white, pink and port-style wines, all of which can be sampled in the on-site tasting room.
RockWall also plays host to a variety of other events, including book signings by local writers, charity events, orchard races and more. Find out more about their business and hours at their website, rockwallcellars.com.