Oliver is a hiking hot spot
Try walking the trails in the wine capital of Canada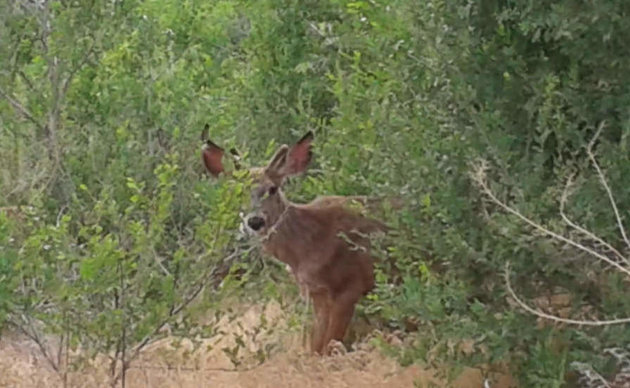 With its renowned vineyards and warm weather, Oliver attracts RVers who are looking to relax and enjoy the Okanagan's natural charm. Hikers are especially smitten with this destination, as it has a selection of interesting places to tour on foot.
The International Hike and Bike Trail
Take a walk down the International Hike and Bike Trail and get to know Oliver's natural attractions firsthand. Flat, mostly paved and easily accessed, this trail is designed for hikers and bike riders of all skill levels. No motorized vehicles are permitted on this well-maintained path, which runs alongside the Okanagan River for approximately 18 and a half kilometres (the first 10 kilometres are paved, but the last eight-kilometre section south of Oliver is gravel).
Most hikers choose to set off from one of three different access points. One is at the beginning of the trail at McAlpine Bridge (where Highway 97 intersects with the Okanagan River), and the other two access points are right in downtown Oliver (one behind the Oliver Tourist Information Centre and the other behind the Kinsman Playground and Water Park).
You can hike from any of these points into lush natural surroundings. See ponds with ducks, herons, eagles, turtles and other wildlife, or come by in early summer to check out the lily pads and their bright pink blooms. There are a number of secluded picnic and swimming spots along the way, and autumn brings the salmon out to spawn, which is an unforgettable sight to see. Any time of year, you're bound to witness something incredible on this route.
Peach Cliff in Okanagan Falls
If you're up for a bit more of a challenge, consider hiking up Peach Cliff in Okanagan Falls. While it isn't as difficult as its intimidating appearance might suggest, this trail is still moderately challenging, so be prepared for a workout.
You can access the trailhead by following McClean Creek Road out of Okanagan Falls for a few kilometres, until you reach a sharp turn in the road. The trail access point will be on the west side. Proceed through the unlocked gate, and follow the dirt road leading to the back side of Peach Cliff.
Along the way, you will see old mining equipment, a naturally fed pond and other scenic rewards for your effort. It is worth the hike to see this postcard-perfect area.