RV camping in Okeechobee, Florida
Find the information you need to have a great time RVing in Okeechobee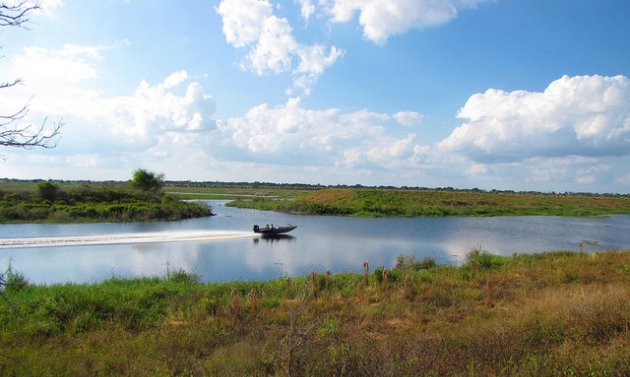 Okeechobee is a tourist-friendly community in Florida where RVers love to gather every year. There are a number of interesting attractions for all preferences, as well as entertainment facilities, events and, of course, stunning campgrounds and resorts.
We put together some basic information you will need in order to get the most out of your Okeechobee vacation. Check out our list of tourist information sources, RV dealerships, sanidumps, RV parks, dining establishments and attractions, and start planning your trip today.
Tourist information
Chamber of Commerce of Okeechobee
Okeechobee County Tourist Development
Top attractions in Okeechobee
Get in touch with your adventurous side and take an airboat tour around the Okeechobee area. You can see all different types of wildlife and botanical wonders during your visit. This family-run company also offers hunting trips, fishing charters, buggy rides and more.
A mecca for nature lovers, the Florida Wildlife Corridor was created with the goal of conserving and restoring the region's ecosystem. Visitors can attend the facility's regular public events to learn more about the interconnectedness of local flora and fauna, and see panthers, bears and other wildlife.
Every month, the Okeechobee Main Street organization hosts Main Street Mixers, which provide guests with the chance to socialize with members of the community, learn about local businesses and enjoy hors d'oeuvres and live entertainment.
If you are an equine enthusiast, you will want to check out the Wagon Wheel Horse Farm. This working ranch offers trail rides and allows visitors to pet and feed the rabbits, chickens, calves, goats and other livestock. The rides can go for two hours or for a full day if you wish to enjoy a longer outing. You can also reserve an overnight camping trip, with meals included.
Okeechobee Golf and Country Club
RVers often want to hit the greens and give their golf clubs a workout, and Okeechobee Golf and Country Club is one of the finest places to do just that. This is a quality 18-hole, par-72 course that runs for 6,699 yards.
Phone: 863-763-6228
Lake Okeechobee
Near the city of Okeechobee is the splendid Lake Okeechobee. Known by the nickname The Big O, it is the largest freshwater lake in the state. It also provides valuable habitat for wildlife and plays an integral role in the area's flood control and water supply. You can come here to catch a few fish, or take a walk on one of the hiking trails along the lake's perimeter.
Top events and festivals in Okeechobee
National Day of the American Cowboy
Each year during the fourth weekend of July, a crowd gathers in Okeechobee to celebrate the community's cowboy heritage. The event kicks off with a cattle drive that runs through the centre of town, and afterward visitors can enjoy western-themed exhibits and vendor stalls.
Ask the locals, and they will tell you that Okeechobee is the speckled perch capital of the world. This annual festival, sponsored by Okeechobee Main Street, is held in March. Known as the most popular event in town, the festival includes a parade, vendors, arts and crafts and other family-friendly attractions.
Treasures in Town Arts & Antiques Fest
Held on the fourth Saturday of each month, the Treasures in Town Arts & Antiques Fest is sponsored by the Treasure Coast Art Association Inc. Come and see loads of handmade goodies, artwork and other locally made items. In addition to the vendors, there is live entertainment and other activities to take part in.
Top of the Lake Art and Music Fest
Celebrate the creativity of the Okeechobee community at this yearly arts and music festival. Admission is free, and there are children's art projects available as well as a play zone. Local musicians will entertain the crowd while national and local artists can display their creations. You can shop for your own keepsake, find an art piece that speaks to you, or grab a bite to eat at one of the booths.
Top restaurants in Okeechobee
This coffee shop offers free Wi-Fi, great java and an array of chocolate, ice cream and other sweets that will appeal to all ages.
Locals and visitors rave about the meals at Zippy's. Enjoy pub-style and cajun food seven days a week at this licensed establishment. Try the legendary fish and chips, chicken wings and other hearty dishes. Zippy's also hosts events for charities throughout the year, as an added benefit to the community.
Lodge at the Lake is known for serving all-American meals, and the extensive breakfast menu is particularly popular. This licensed restaurant offers a little bit of everything, including appetizers, salads, burgers, home-style entrees and a deluxe dessert menu.
Lightsey's
If you love seafood, be sure to stop by Lightsey's. This restaurant serves up a Sunday seafood buffet with fresh delights from the local waters. You can sample a wide variety of options, even try some menu items you've never tried before. The oysters and catfish dishes come highly recommended.
Phone: 863-763-4276
Cowboy's Bar-B-Q and Steak Co.
Settle in for a rustic meal of pulled pork, barbecued ribs, juicy steak or one of the other mouth-watering choices at Cowboy's Bar-B-Q and Steak Co. This buzzing restaurant boasts a large salad bar, cold beer and a deck overlooking Taylor Creek.
Sanidumps in Okeechobee
Campgrounds and RV resorts in Okeechobee
Water's Edge Motorcoach & RV Resort
Vantage Oaks RV Park 863-763-5419
RV Dealers, rentals and repair in Okeechobee
Okeechobee Trailer Sales Inc. 863-763-8868