Parks of the Northwest Territories
The best recreational parks for RVers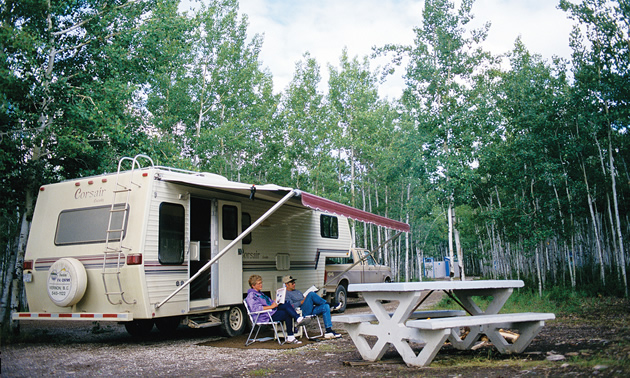 The Northwest Territories have a diverse landscape: gentle boreal plains, majestic waterfalls, challenging rivers, huge lakes, mountain ranges, a dramatic tree line and an area of exposed bedrock. How can you possibly see it all? Looking at a map showing the large number of territorial and national parks in the land of the midnight sun makes a person pause at the magnitude of this region.
The parks throughout the N.W.T. are mostly open from May15 to September 15. They're broken down into four categories: heritage parks, natural environment parks, recreational parks and wayside parks. Focusing on the recreational parks, here are some of the highlights.
60th Parallel Territorial Park is part of the Deh Cho Travel Connection and is located on the Waterfalls Route. Bring your camera, because this park offers several photo opportunities. There's a beautiful picnic area overlooking the Hay River and seven camping spots, but no services.
Prelude Lake Territorial Park has a large campground, is only 30 km from Yellowknife and is the access point for paddlers on the Ingraham Trail Powder Point canoe route. For the less adventurous, a short trail leads to a viewpoint over the lake.
Prelude Lake has a nature trail with informative signs that guide both adults and children to observe the muskeg, bedrock and swamp ecosystems. See if you can find the ruffed grouse, whiskey jacks, snowshoe hares and crossbills who call this park home.
Fred Henne Park is located a short distance from Yellowknife at Long Lake and is popular for swimming, boating, fishing and even windsurfing. Both day use areas and camping spots are available, as well as a pavilion describing the Ingraham Trail in great detail.
Gwich'in Territorial Park Reserve is on the way to the Arctic Ocean along the Dempster Highway. Take the time to explore the limestone cliffs and search for rare arctic plants which this park is noted for, as well as the fabulous displays describing the western Arctic region. This is an important location for migrating birds.
Sambaa Deh Falls Territorial Park. In days gone by, fur trappers used the Sambaa Deh as a travel route to Fort of the Forks (Fort Simpson), where they would sell their furs and trade for goods. When visitors to the park see the incredible Sambaa Deh Falls and the Coral Falls, they are awed by the route these trappers had to take and how they portaged around these falls on their journey.
The park campground has most of the necessities for a comfortable stay and the nearby trails lead to excellent viewing of both sets of falls. Those who enjoy fishing will appreciate that northern pike, arctic grayling and pickerel can be caught in the Trout River, which flows through a steep canyon below the Sambaa De Falls.