Majestic scenery in Deh Cho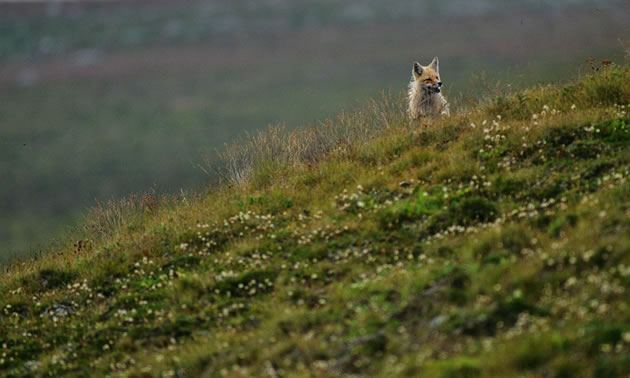 This driveable wilderness is easily accessible for photographers, who will appreciate both the majestic scenery and the abundant and unique wildlife that populate the Deh Cho region. There are seven small communities along the Deh Cho Waterfalls Route.
Reach the Deh Cho by following the Mackenzie Highway in Alberta or by travelling north on the Liard Highway from Fort Nelson, B.C. No matter which direction you travel, the landscape is remarkable and the waterfalls created by the many rivers are grand. Photographing the Waterfalls Route can be an amazing experience.
Twin Falls
Near the Alberta border are the two spectacular waterfalls at Twin Falls Gorge Territorial Park, said to be coloured gold from the clays carried by the Hay River.
Lady Evelyn Falls
Near the community of Kakisa is Lady Evelyn Falls Territorial Park. The access road to the south leads 6.8 kilometres to the park. Follow a short trail to the falls, where the Kakisa River flows over a limestone escarpment. For the more energetic there's a staircase leading into the gorge at the base of the falls for even more dramatic shots.
Sambaa Deh Falls Territorial Park
Travelling further west to the Deh Falls Territorial Parks on the Trout River, there's one waterfall you can actually see from the highway, and another is just a short hike up the river.
Watch for wildlife
Moose: Found throughout the Northwest Territories, moose are the largest of the deer family. The males (bulls) usually weigh between 500 and 750 kilograms, while the females (cows) are smaller. If you see one with antlers, it's male. Don't be fooled by their stiff-legged way of walking—if they are frightened they can gallop about 55 kilometres an hour.
Bear: Seeing a bear can be the highlight of your search for wildlife. Remember they are a wild animal and must be treated with respect. Black bears and grizzlies live in the Northwest Territories and—if seen from a distance—make for interesting subjects. Safety is paramount and knowing what to do in the event of a bear encounter is important.
Five wildlife photography tips
Have patience. It takes persistence to capture a momentous photo of a camera-shy wild animal, so don't be in a hurry.
Have you read your camera's manual? It seems simple, but the manual will have many great suggestions to best utilize your camera's features.
Have a pair of binoculars or a spotting scope to help you locate the wildlife.
Bring a tripod to keep the camera steady.
A telephoto lens allows you to get up close to your subject without being placed in any danger or bothering the animal in your sights.