The final days of the northern journey
Taking a look at Ketchikan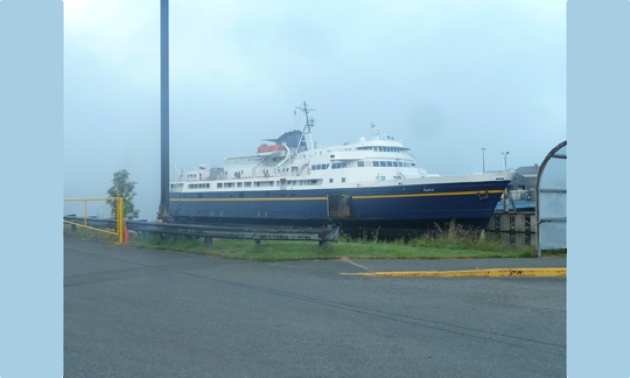 In all our previous travels to Alaska we always felt there was a mystique about Ketchikan, with it being at the end of the Alaska Marine Highway for Canadians headed home. In addition, some of our friends who had taken Alaska cruises and stopped at Ketchikan also increased our interest in this community.
We felt that this trip would give us a better understanding of Ketchikan. Once we got off the ferry we headed for our campground, the Clover Pass Resort, which was located 12 miles north of the ferry terminal. We didn't mind the drive from the RV park to get to and from Ketchikan, as the drive was very scenic as we skirted bays and coves. The only down side to our visit was the clutch in our truck started to slip in fifth and sixth gear. We made an appointment at the Chrysler dealer in Prince Rupert for Monday and hoped it wouldn't totally pack it in before we arrived there.
While in Ketchikan we had a great time, even wishing that we had more time to spend here exploring and enjoy the sights. Even at that we did cover a lot of sightseeing and found some time to do the tourist thing—shopping.
Our first stop was the Great Alaska Lumberjack Show, which is a one-hour, fast-paced action show demonstrating the skills required in lumberjacking, interspersed with great humour and audience participation. The audience is split between American supporters and Canadian supporters. As luck would have it we were seated in the Canadian side, so we had no difficulty shouting and supporting our team. Well worth taking the time to take this show in if you are ever in Ketchikan.
One of the things we found nice is there is ample parking for tourists in the Ketchikan, making it easier to enjoy the attractions in town, do some shopping or visit one of the many eateries.
We had one of our lunches at the Cape Fox Lodge while enjoying a fantastic view of Ketchikan, as the lodge is on top of a hill overlooking Creek Street, downtown Ketchikan and the harbour. If you're walking you can take a ride on the funicular (tram) up 39 metres (130 feet) to the lodge dining room from the street below.
We also took the time to visit the Southeast Alaska Discovery Center. It has numerous displays on native culture, the rainforest and other fascinating and well-laid-out areas of interest. To top it off we watched an interesting and well done half-hour movie on the Tongass National Forest. As a bonus they gave us a copy of the movie for free when we left.
Being true tourists we had to visit the infamous Creek Street, which in its heyday was Ketchikan's Red Light district. We took the time to visit Dolly's house, th residence of its most famous madam. While walking the boardwalk bordering Creek Street we stopped frequently to watch the salmon swimming upstream to spawn—a sad experience but one that has to happen in order to procreate the species.
On one of our trips back to our RV park we stopped at Totem Bight State Historical Park to take a self-guided tour of the grounds and check out the 14 totem poles, representing both Haida and Tlingit cultures, as well as a recreated Tlingit clan house. The tour pamphlet provides an explanation of each of the totem poles, giving you a good understanding of what is being told.
For our last day we decided to take the hour-and-a-half tour of Ketchikan and the harbour on a duck, an amphibious vehicle that can go on land and water. During our indoctrination at the start of the trip we were informed that these were not Second World War ducks but new, specially built ones for this tour. Our tour guide was a local and knew all about the places we drove by on our land portion of the tour, continually explaining what we were seeing in an informative and humourous way, probably one of the best deliveries we have heard in our travels. After going down a launch ramp we entered one of the marinas and travelled for about half an hour, mixing with the other boats in the water. If you have never been in a duck, it is a unique and fun experience and definitely something you should try if given the opportunity.
Before we had to bid farewell to Ketchikan we had dropped down to the ferry terminal to check in and find out when we could line up. We were scheduled to leave at 7:30 a.m. and had to be there two hours before then. We were informed that as no other ferries were scheduled to come in before we left, we could line up whenever we wanted. We felt it would be better to take advantage of this and sleep in our unit at the terminal. This worked out nicely, as we didn't have to get up till 6:30 and could have our breakfast while we waited to board the MV Taku. We were informed that the Taku would discharge the vehicles off the back at Prince Rupert. Great! We could drive on and drive off without having to do any backing up.
When we woke up it was a clear day but as we approached boarding, the fog rolled in. We hoped that the fog was going to burn off and that it wasn't going to follow us all the way to Prince Rupert. The fog closed in on the ferry and followed us almost to Prince Rupert, only clearing when we approached the shore. Once we berthed in Prince Rupert, the next stop was Canada Customs. Clearing customs was no hassle and the agent welcomed us back into Canada. Glad to be back in Canada again, even if we have Monopoly money, as the Americans refer to our bills, and no more pennies to fill our pockets.
When we look back at our adventure we have to be thankful for:
the great weather
the experiences we shared with our friends Rick and Sandra
the places we visited
the people we met along the way
the fun we all had
the new attractions we visited
the new RV parks we used
the great staff we met on the ferries, especially the guys on the loading deck who patiently and skilfully helped load and unload us
the new restaurants we tried out
the people who we had previously met who were glad to see us again
the great scenery and amenities while we travelled on the ferries
the unique and enjoyable way to see parts of Alaska we normally wouldn't have seen if we had not taken the Alaska Marine Highway