Rejuvenation, community and fun
by Karen Kornelsen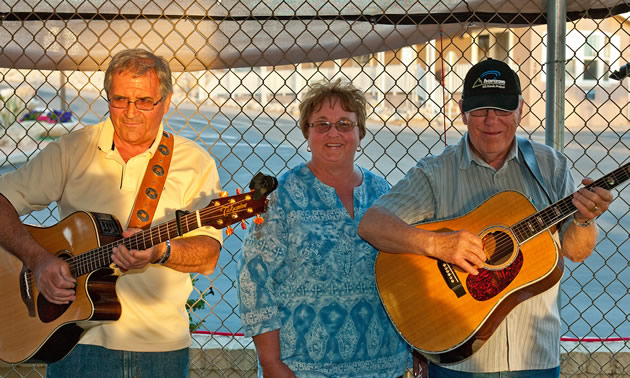 The Fountain of Youth Spa RV Resort is more than just a place to relax and unwind. It's an incredible community filled with friendly people and more things to do than there is time.
The Fountain of Youth is a snowbird RV resort like no other. Jolene Wade owns this family business along with her parents and brothers and said that after opening in 1965, the resort has continued to grow and improve year after year.
"This has been mostly in response to customer suggestions," she said. "We have an incredibly scenic setting at the foot of the Chocolate Mountains, just an hour south of Palm Springs. The weather in the winter is beautiful, as the tempurare is in the 70's during the day and is very sunny and mild."
The resort was originally built around the artesian mineral aquifer which construction workers discovered in 1938 when looking for a water source to mix concrete for the All American Canal. They found the water was full of minerals and too hot to use. Wade said this water does wonders for guests, with its healing and rejuvenating properties.
The resort offers two large pool areas, with two swimming pools, a rejuvenating hot spa and three fresh water hot spas, including an oversized waterfall spa.
Resort living
But there's more than just this rejuvenating water to look forward to. Fountain of Youth has 1,000 RV sites, most of which are full hook-up sites. In addition there are overflow sites, as well as 450 sites that are available for seasonal use. Wade said they do fill up.
At the resort, people can enjoy his-and-hers natural steam rooms, four recreation halls, a convenience store, Freddy's Fountain Cafe open November to March, a hair and nail salon open November to March, massage therapy, a craft and sewing room, a commercial quality fitness room, a walking course with stretching stations and lots of local and professional live entertainment. There are tons of activities outside of the resort as well.
"There are casinos and shopping within 40 minutes of here," said Wade. "We're also about an hour from Palm Springs, where they have everything. About an hour south of us is the Mexican border and lots of our visitors like to go there and do some shopping. We also overlook the Salton Sea, which is very beautiful. But when we get feedback from our customers, what they mention most is the mineral water—but more importantly, how friendly the staff and the other visitors are."
Wade loves her job and it's because of the people that flock to the resort, half of whom are Canadian.
"We've been a customer-driven destination for many years," she said. "We've got tons of friendly folks who come out to have a great time and enjoy all our amenities and our location. We expand and improve each year. We just remodelled our poker room and put pickleball lines on both tennis courts. Our tennis courts are world class and we have disc golf as well."
The snowbirds who populate the Fountain of Youth tend to be the fun-loving type.
"It's like they come out, get settled in and just come alive," said Wade. "Next thing you know you have these crazy, fun ideas coming to life. A good example is (from) a couple of years ago. We have a theatre club and someone decided to have town criers announce the events at the theatre. Some people got together with the ladies in the craft room and went out as town criers. It was the coolest thing. Stuff like that happens all the time."
Wade said there's really something for everyone at Fountain of Youth Spa RV Resort, whether guests want to contribute to events like the theatre or just sit back, relax and be a bystander. And she said she truly enjoys being a part of it all.